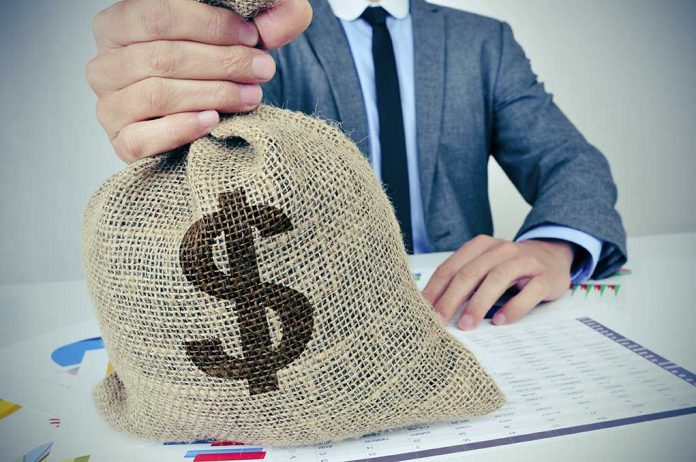 (WatchDogReport.org) – Americans received three rounds of economic impact payments, also called stimulus checks, authorized by Congress through 2020 and 2021. Now, many are wondering whether they might receive a fourth payment in 2022.
Even though inflation is raging and many people are facing uncertain times, Congress has made it clear they're unlikely to issue another economic impact payment. Still, that's not stopping 10 states from issuing rebate checks to combat spiking gasoline prices and inflation.
Which States Are Paying People?
According to Forbes, the following 10 states have already approved legislation to send rebates to some or all of their citizens. They are:
Maine
Maine's citizens can expect to receive checks for $850 in direct relief payments, authorized by Governor Janet Mills in April. Individuals making less than $100,000 or less than $150,000 as head of household are eligible. Couples filing jointly can make up to $200,000 and would receive a check totaling $1700.
Residents, even those who typically don't file, have until October 31, 2022, to submit their 2021 taxes and qualify for the relief payments. The state will begin issuing payments in June. Maine also increased the amount it's returning for 2021 to the state's Earned Income Tax Credit recipients.
New Jersey
Governor Phil Murphy announced a sweeping $2 billion tax relief program for fiscal year 2023 on June 15, affecting over 2 million New Jersey families. The Affordable New Jersey Communities for Homeowners and Renters (ANCHOR) program proposes to provide property tax relief as follows:
Households making less than $150,000 annually would receive $1500 per year in tax credit on their property bills, affecting more than 870,000 homeowners
Households making between $150,000 and $250,000 annually would receive $1000 per year in tax credits on their property bills, affecting more than 290,000 homeowners
Renters making up to 150,000 annually would receive $450 per year in state tax credits to offset rent increases caused by rising property taxes
So, while residents won't physically see a check in 2022, they can look forward to tax rebates in 2023.
Delaware
The state began sending $300 relief rebate payments to residents in May based on their 2020 tax returns. Most residents who filed taxes should have received their payments by the end of May. Couples who filed jointly should each have received a check. Residents with questions might want to check the Delaware Department of Finance's website for answers or to check on the status of their rebate.
Georgia
Governor Brian Kemp issued legislation authorizing tax rebates after historic budget surpluses. Taxpayers who filed for both 2020 and 2021 may receive rebates up to $250 for single filers, $375 for those filing as single head of household, and $500 for married couples filing jointly. Residents who only inhabit the state part of the year and those who owe arrears may see reduced rebates. Georgia residents can find answers to more questions through the Georgia Department of Revenue.
Minnesota
Some first responders and front-line workers will receive one-time $750 payments thanks to legislation enacted by Governor Tim Walz. Workers must apply for the Minnesota Front-line Worker Pay Program, and applications close on July 22.
Indiana
State residents who filed their 2021 taxes will receive a one-time $125 tax rebate based on a budget surplus, according to Governor Eric Holcomb. Married couples filing jointly will receive a single rebate of $250. Indiana is providing refunds via direct deposit where possible. For everyone else, checks will be issued later this summer. For more information, residents can visit the Indiana Department of Revenue website.
Colorado
Taxpayers in Colorado can expect tax rebates of at least $400 later this year based on legislation Governor Jared Polis signed in May. Every resident who filed 2021 taxes by June 30 can expect a payment by September, but the exact amount they see will depend on state revenue totals.
New Mexico
Residents of New Mexico will benefit from multiple tax rebates this year based on legislation signed by Governor Michelle Lujan Grisham. Residents earning less than $75,000 annually could receive as much as $750 in rebates this year under the programs. The state will send the rebates with refunds or apply them to taxes owed.
Idaho
The state expects to send more than 800,000 rebates to Idaho residents this year due to legislation enacted by Governor Brad Little in February. Full-time residents who filed 2020 and 2021 tax returns and grocery-credit refund returns can expect a $75 rebate or up to 12% of their state taxes, whichever is greater, deposited through direct deposit into their accounts where applicable. For residents without direct deposit, the state will issue checks. Residents can monitor the status of their rebate.
Hawaii
Residents may begin to see $300 payments due to a tax rebate proposed by Governor David Ige for those earning less than $100,000 annually. Those earning above that cap would still receive a $100 rebate.
So, while the federal government probably won't release a fourth stimulus payment, these 10 states are doing their best to help residents through tax rebate programs. More states are also evaluating tax and gasoline rebate programs. Check back soon for more information.
Copyright 2022, WatchDogReport.org