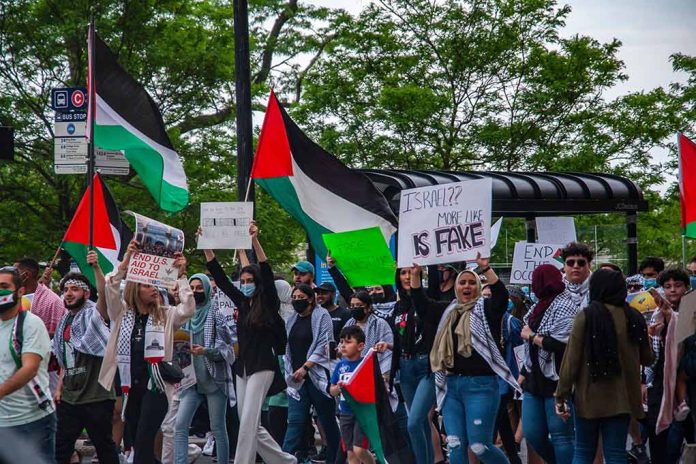 (WatchDogReport.org) – Conservative student group Turning Point USA said on October 22 that one of its staffers was brutally attacked by a pro-Hamas mob in Skokie, Illinois. The group stated that the attack took place while Turning Point employee Peter Christos was covering a pro-Israel rally in the heavily Jewish suburb of Chicago.
On his Twitter account, the student group's founder, Charlie Kirk, said that Christos was attacked as he and another staffer were escorting an elderly couple away from the rally. Kirk claims that, when they were going to their vehicles, pro-Palestine supporters started to scream at them and punched Christos repeatedly until he was on the floor.
The founder and conservative public figure noted that the pro-Palestine supporters even struck Christos with a flag pole before police officers appeared and pulled him and the other staffer to safety. Kirk said that police need to arrest "these thugs" and charge them with "hate crimes." The moment was caught on video and eventually became viral on social media.
During an interview with Breitbart News, Turning Point spokesman Andrew Kolvet said that Christos and his colleague were assaulted while they were doing "a good deed." He pointed out that the two Turning Point employees are not even Jewish, but Christians who support Israel.
Kolvet also said it's unacceptable that the United States has "violent mobs" that terrorize every Christian or Jew who decides to attend a pro-Israel gathering. He explained this shouldn't happen in the country, but should be a "wakeup call" to American political leaders about the "type of people" they are allowing to live in the US.
The spokesman added that what Christos and his colleague suffered was a hate crime and said that Turning Point will make considerable efforts to ensure that those who assaulted them are prosecuted.
According to reports, similar incidents have been taking place in different cities across the country since Hamas attacked Israel on October 7.
Copyright 2023, WatchDogReport.org