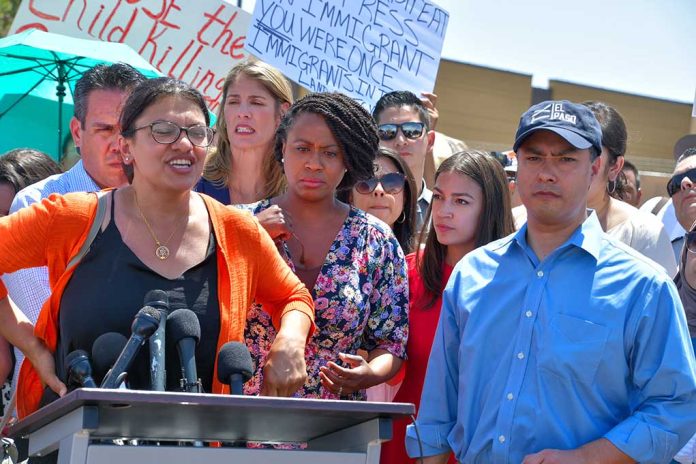 (WatchDogReport.org) – The "Squad" is in the hot seat, feeling the burn from White House press secretary Karine Jean-Pierre. She laid it all out during the Tuesday press briefing, branding their comments on the Israel-Hamas war as way off the mark, distasteful, and downright disgraceful.
"The Squad" refers to a group of ultra-progressive leftist Democratic members of the US House of Representatives. Its most prominent members are New York's Alexandria Ocasio-Cortez and Minnesota's Ilhan Omar, followed by Ayanna Pressley (D-MA), Rashida Tlaib (D-MI), Cori Bush (D-MO), and Jamaal Bowman (D-NY).
The White House press secretary said that there was no middle ground for terrorists who are responsible for those brutally killed and hundreds of others who were raped and kidnapped. She made it abundantly clear that this isn't a two-sided issue between political parties, repeating that there " are not two sides."
Tlaib and Bush ruffled feathers in their statements following the Hamas attack by urging the US to cut its support for Israel to end the violence. Tlaib stated that she mourns the loss of lives in Palestine and Israel daily. She further said that when America keeps handing over billions to the apartheid government, this cycle of violence will not end.
Bush called for sustainable peace by cutting off US government aid to Israel's military, which she called an "occupation" akin to apartheid. Ocasio-Cortez and Omar also pushed for an "immediate ceasefire" on the day of the attacks that left hundreds of Israelis and innocent people from other nations brutally killed. The violence has claimed the lives of women, children, and even babies.
Omar stated that she respects the lives of the Israeli civilians and Americans who were brutally murdered and the innocent Palestinians affected by the violence. She also accused Israel of running an "apartheid" regime while trying to explain the violence by Hamas.
Copyright 2023, WatchDogReport.org