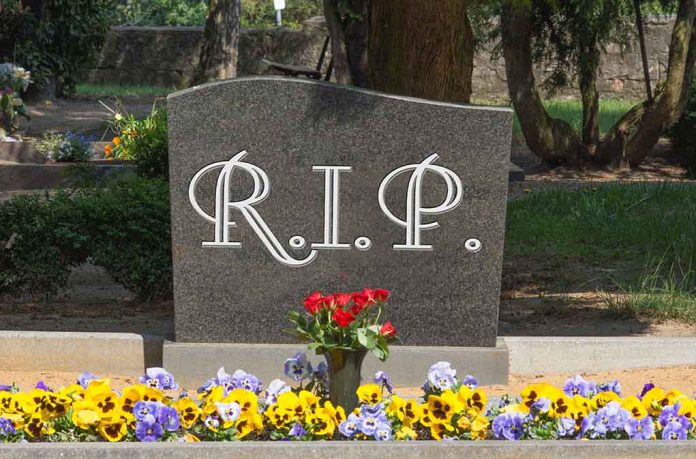 (WatchDogReport.org) – Suzanne Somers has passed away at the age of 76. She was best known as the blonde actress in the iconic role of Chrissy Snow in "Three's Company." She had been battling breast cancer for more than 23 years and died in Palm Springs, California, surrounded by her husband, Alan Hamel, her son Bruce, and immediate family.
Somers' death occurred just one day before her 77th birthday on October 16. R. Couri Hay, her long-serving publicist, shared the news with People, revealing that she had been battling breast cancer for over two decades. The family plans to celebrate her extraordinary life and convey their gratitude to the numerous fans and followers who cherish her. There will be a private burial this week, followed by a memorial service in the coming month.
In July, Somers publicly revealed the return of her breast cancer, which she had initially been diagnosed with in 2000. She also faced criticism for her reliance on a chemical-free and organic lifestyle as part of her cancer treatment.
Suzanne Somers was widely recognized for her roles in television shows, but that wasn't all she was known for. Following her iconic part in "Three's Company," she became the face of the Thighmaster. She later returned to television with the show "Step by Step," featured in ABC's TGIF lineup.
Over the years, she authored several books, including autobiographies, health, and beauty guides. Additionally, she shared her personal journey with breast cancer, surviving the aggressive disease for over two decades. This experience led her to establish Suzanne Organics, her line of skincare and cosmetics.
Suzanne Somers also ventured into dancing, participating in the 20th season of "Dancing With the Stars" in 2015. Her legacy lives on through her husband, her son from a previous marriage, two stepchildren, and her immediate family.
Copyright 2023, WatchDogReport.org