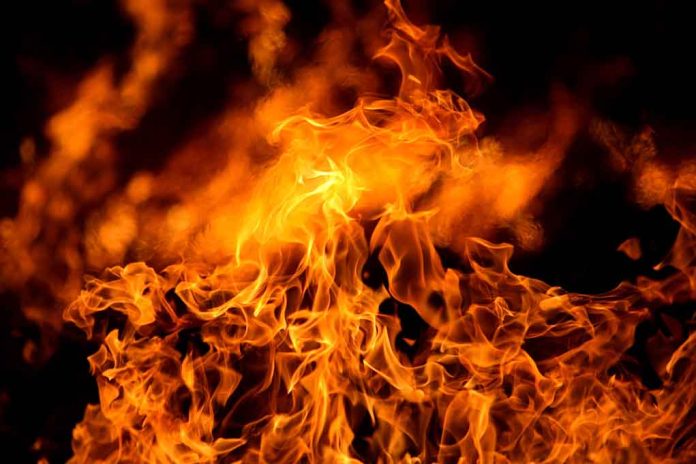 (WatchDogReport.org) – Nearly 50 young people clashed with Scotland's riot police in Edinburgh on November 6, throwing petrol bombs and fireworks against the officers. In a statement, Police Scotland said that officers responded to disturbances in the capital city, Dundee and Glasgow. The force added that eight police officers suffered injuries, in what it described as a night of "unprecedented" violence.
In a separate statement, Scotland Fire and Rescue Service noted that nine of its crew were brutally attacked all across the country during an eight-hour period. Some of the videos of the clash in Edinburgh's Niddrie area showed the protesters attacking the officers, with some of them saying, "This is getting out of control."
As reported by the BBC, riot police arrived at Niddrie's Hay Avenue after numerous reports of "illegal use of fireworks." The media outlet pointed out that officers were pursuing some individuals who were providing youths with petrol bombs and fireworks to attack the police.
The police said that the group of youths' behavior escalated when officers arrived at the scene. The force added that while officers only made a "small number" of arrests, they gathered evidence that could lead to further arrests of some of the people throwing the petrol bombs and those who provided them.
In its statement, Police Scotland also said that two of its police cars were "severely damaged" in Dundee after a group of youths threw bricks at them. It added that some officers were injured in Glasgow after responding to a report of two groups of teenagers throwing fireworks at Barmulloch's Quarrywood Avenue.
Operation Moonbeam gold commander and Assistant Chief Constable Tim Maris said during a press conference that what the group of youths did in the three cities was "unacceptable." He added these acts represented a "disgusting level" of anarchy that left police officers injured and many Scottish communities "alarmed." Maris also said it remains unclear if the incidents in the three cities were connected.
According to different reports, what happened in these Scottish cities represents the latest case of civil unrest that is spreading not only across Europe but also in many regions across the globe. In 2022, the International Monetary Fund said the rise of civil unrest represents a serious risk for the world's economy.
Copyright 2023, WatchDogReport.org