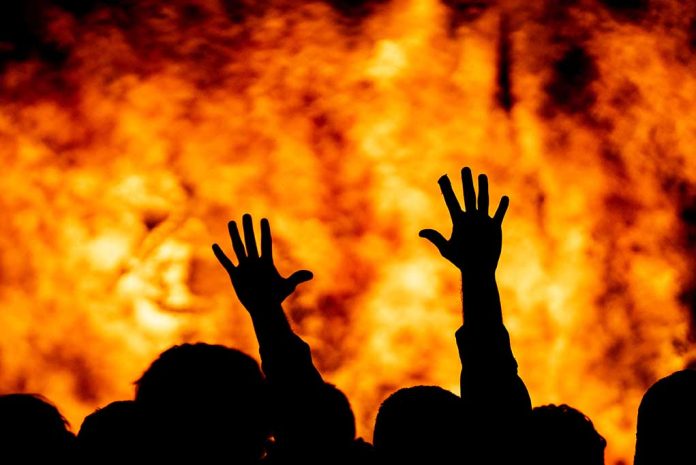 (WatchDogReport.org) – Angry mobs across the Middle East and North Africa unleashed their fury on the night of Tuesday, October 17, targeting Western embassies. The focus fell especially on Israeli, American, and French ones. The scenes from these protests were chaotic, with mobs setting fires and police responding with tear gas. The rage was sparked by a grim event – the alleged mass killing of hundreds in a Gaza hospital, reportedly due to a misfired Palestinian jihadist rocket.
The Ahli Baptist Hospital in Gaza City was hit and sustained a death toll ranging from 200 to 500. Immediately, local authorities, under Hamas's control, pointed fingers at Israel, attributing the hospital's bombing to an alleged retaliation for Hamas's attacks on Israeli territory on October 7.
Israel, in turn, vehemently denied these allegations. They presented evidence suggesting that the rocket responsible for the hospital tragedy belonged to Palestinian Islamic Jihad, an Iranian-backed terrorist organization linked to Hamas. Additionally, the Israeli Foreign Ministry unveiled video footage from Al Jazeera that recorded a rocket misfiring at the same time as the hospital strike.
However, despite this evidence, radical Islamist groups and governments, primarily Iran, continue to blame Israel for the hospital bombing. These accusations ignited protests in several Muslim-majority countries, including Lebanon, Turkey, Iraq, Tunisia, Jordan, and, reportedly, Iran and Yemen.
Jordan experienced a massive demonstration in Amman, with the mob attempting to breach the Israeli embassy compound. Police used tear gas to control the crowd. Beirut saw protests around the embassies of the United States and France, while Turkey's Ankara and Istanbul were flooded with angry Muslim men, and their protests took a demanding tone.
In the midst of these protests, President Joe Biden visited Israel, pledging support to both Israel and the Palestinians. Biden backed Israel's side, stating the hospital was hit "by the other team."
Since then, the violent protests have expanded into Europe, with riots breaking out in Germany. Wednesday, October 18, saw dozens of police officers injured, according to Breitbart, as pro-Palestinian protests exploded across Berlin. Local police allege they were assaulted with everything from bottles and stones to pyrotechnics.
Copyright 2023, WatchDogReport.org