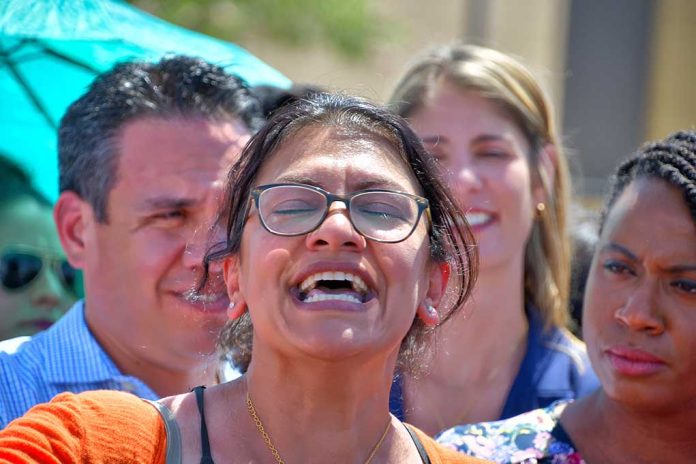 (WatchDogReport.org) – According to a Fox News report, numerous Democratic leaders are calling out Michigan Representative Rashida Tlaib after she tried to justify her antisemitic chant "From the river to the sea." Numerous reporters and scholars have said the chant indirectly calls for the genocide and extermination of the Jewish state.
In a November 3 Twitter post, Tlaib said that the chant was nothing more than an "aspirational call for freedom," peaceful coexistence, and human rights. She added that the chant has nothing to do with death or hate, and claimed that her work and advocacy has always been centered in the justice and dignity of all people.
One of the Democratic leaders who criticized Tlaib was Michigan Attorney General Dana Nessel, who called for her to immediately "retract" the "hateful" Twitter post. Nessel told the Michigan Democratic representative that while she has always admired her, she found her comment "cruel" and "hurtful."
Another Democratic politician who blasted Tlaib was Michigan Representative Elissa Slotkin, who is the only Jewish member of the state's congressional delegation. She said on her Twitter account that Tlaib's chant is counterproductive as it's one of "violence" and "division." Slotkin added that a democratically-elected politician should never "amplify" a language that is divisive and "inflames a tense situation."
In a separate post, Slotkin explained that what Tlaib is doing is dangerous and irresponsible as there are many Muslims and Jews in the state she's representing. She also pointed out that Tlaib should show more "empathy" and added that if she ever publishes such an offensive flame, she would immediately retract and apologize to her constituents.
A liberal group called Stop Antisemitism also said on its Twitter account that Tlaib was committing a violent offense against the Jewish communities in the United States. The group added that the Michigan representative was echoing the Palestinian terrorist group Hamas.
Nevada Democratic Senator Jacky Rosen also blasted Tlaib on Twitter, as she said the Michigan leader was "wrong" in publishing the chant and in defending it.
On Tuesday, 22 Democratic House members joined their Republican counterparts in a 234-188 vote to censure Tlaib over the controversial comments.
Copyright 2023, WatchDogReport.org