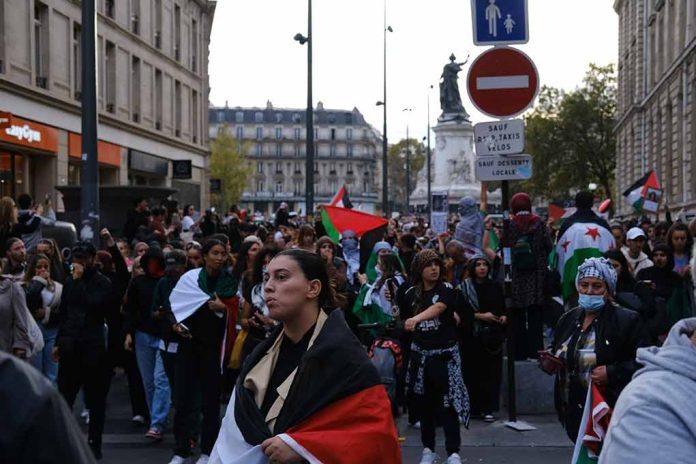 (WatchDogReport.org) – Recently, French authorities deployed tear gas and water cannons to disperse a prohibited pro-Palestinian rally in Paris. France's Interior Minister, Gerald Darmanin, had earlier forbidden pro-Palestinian protests, citing concerns that they might lead to disruptions in public order.
France hosts both Europe's largest Jewish and Muslim communities. The Israeli-Hamas conflict has historically ignited domestic tensions in the country, leading the interior minister to make the ban.
French President Emmanuel Macron addressed the nation, urging unity and cautioning against importing international conflicts. He stated that the Middle East conflict was an "earthquake" and emphasized the need to avoid deepening domestic divisions.
Macron also reinforced the government's commitment to protecting Jewish sites, including schools and synagogues. He condemned the atrocities in Israel, making it clear that the Palestinian cause should not be confused with justifying terrorism.
Before Macron's address, the far-left France Unbowed party faced criticism for its reluctance to label the Hamas attack as an act of terrorism, leading to tensions with its Socialist and Green opposition partners.
Regardless of the ban, there was a gathering in central Paris of several hundred pro-Palestinian demonstrators, rallying in separate groups that the police attempted to keep apart. Protesters chanted slogans like "Israel murderer" and "Macron accomplice."
Charlotte Vautier, an employee at a non-profit organization who participated in the rally, highlighted the importance of upholding the right to protest, saying, "We live in a country of civil law, a country where we have the right to take a stand and to demonstrate. (It is unfair) to forbid for one side and to authorize for the other."
Macron's statement underscored the seriousness of the current situation and the need for a cautious approach. France's commitment to the safety of its citizens held in the Middle East, especially by Hamas, was made clear. The president expressed support for an independent Palestinian state as part of a lasting solution to the conflict.
The ban on pro-Palestinian protests and the subsequent police actions have stirred controversy and raised concerns about freedom of expression in France. Despite these challenges, the French government remains committed to managing the situation while avoiding internal turmoil.
Copyright 2023, WatchDogReport.org