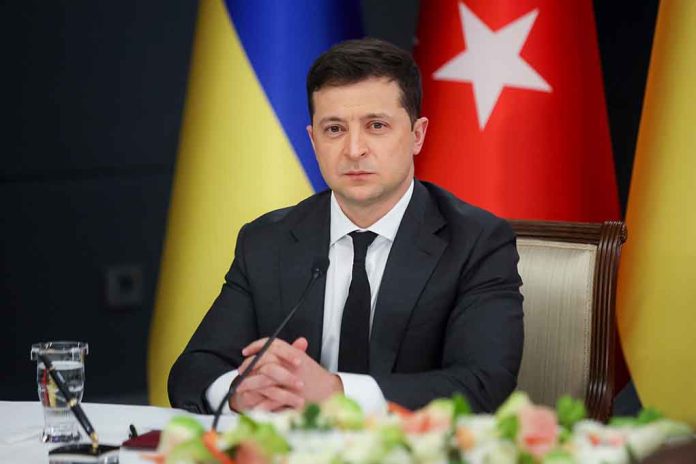 Zelenskyy Signs EMERGENCY Law – He's Cracking Down!
(WatchDogReport.org) – In March, shortly after Russia invaded his country, Ukrainian President Volodymyr Zelenskyy announced he was taking steps against entities that were tied to the invading force. Specifically, the president was targeting pro-Russian political parties in the country. Two months later, he signed a law that could strip the parties of their assets.
Pro-Russian Parties
On March 20, less than a month after Russian President Vladimir Putin launched his unprovoked invasion of Ukraine, The Guardian reported Zelenskyy announced his country suspended 11 political parties. The National Security and Defense Council of Ukraine made the decision to prohibit the parties from engaging in any political activity.
The Ukrainian president said politicians who tried to conduct activity "aimed at division or collusion" would not succeed and would "receive a harsh response." He went on to explain the defense council made the decision based upon the "full-scale war unleashed by Russia" and said the activities would remain suspended during a period of martial law.
The Guardian reported that although many of the suspended parties were small, the Opposition Platform for Life holds 44 of 450 seats in the Ukrainian parliament. That party is run by an oligarch thought to be the godfather of one of Putin's kids, Viktor Medvedchuk, who was charged with treason. Ukrainian officials placed him on house arrest, but after the invasion began, Medvedchuk was able to escape his house. He was detained in April after being on the run for weeks. It's unclear whether he will ever face trial or if Putin will trade something in order to save his friend. So far, nothing is happening on that front.
Zelenskyy Signs Law
On May 14, the same day Senate Minority Leader Mitch McConnell (R-KY) led a delegation of Republicans to Ukraine, Zelenskyy signed a law that expands the list of grounds a court can use to ban a political party. According to an article by Ukrainian media site Ukrinform, the courts can now ban parties that deny "armed aggression against" the country. That includes declaring the Russian war an "internal conflict, civil conflict, or civil war." Presumably, that's because it gives the impression that Russia has any claim over the territory.
If a political party is suspended, then the court can seize its assets and property.
Russia invaded Ukraine nearly three months ago and has now murdered thousands of innocent citizens. These actions have made it clear why Zelenskyy and the dozens of politicians that co-sponsored the bill wouldn't want the allies of an enemy force conducting political activities and potentially poisoning the minds of people.
How do you feel about the law?
Copyright 2022, WatchDogReport.org