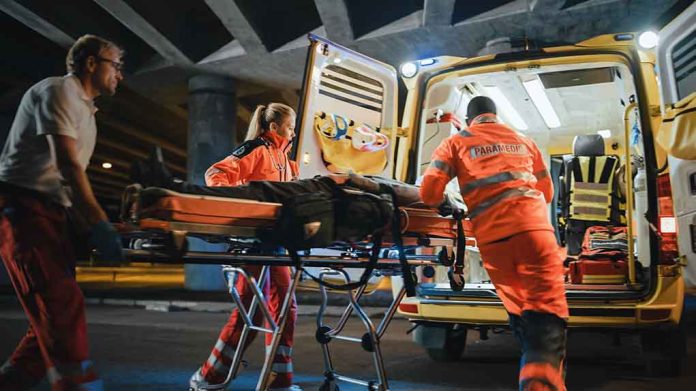 (WatchDogReport.org) – The WWE is a popular sports entertainment organization that uses scripted storytelling to keep fans invested by fabricating feuds, alliances, love stories, and betrayals behind the scenes and in the ring. In fact, sometimes it's difficult for people to know what's real when watching the sports entertainment program.
On March 7, pro wrestler Roxanne Perez was defending her Women's Championship title against Meiko Satomura. After the match and her victory, Perez dropped face-first onto the mat. At first, the collapse appeared to be part of a storytelling stunt until NXT referees rushed to the ring to help, causing many to worry. She was taken out of the arena on a stretcher and loaded into an ambulance.
Still, it was unclear whether or not the incident was part of a plot until WWE NXT posted on Twitter that doctors were keeping Perez in the hospital overnight for observation and testing.
UPDATE: Roxanne Perez will be kept overnight in the hospital for observation and continued testing.#WWENXT

— WWE NXT (@WWENXT) March 8, 2023
Concerned fans reacted to the scare on social media, with many wondering what happened. Others sent well wishes to Perez and hoped her injuries weren't too serious. Some hardcore pro wrestling history buffs compared the collapse to similar WWE plots in the past and hoped the recent incident was just part of another storyline.
I hope that this is a storyline. @ShawnMichaels @BookerT5x please give me an update on Roxanne Perez please. We and the whole NXT Family were giving our thought and prayers for her.

— Julian Kagaoan (@juliankagaoan24) March 8, 2023
According to her bio, Perez made a name for herself in the wrestling world by securing the first Women's Breakout Tournament Champion. She went on to win the NXT Women's Tag Team Championship and made history once again by becoming the first winner of the Women's Iron Survivor Challenge at NXT Deadline.
Shawn Michaels, who many in the wrestling world describe as the most talented sports entertainer ever, spoke out after the incident. He said Perez "left it all in the ring," and wished her a quick recovery. Viewers should find out soon whether it was a real injury or a ploy.
Copyright 2023, WatchDogReport.org