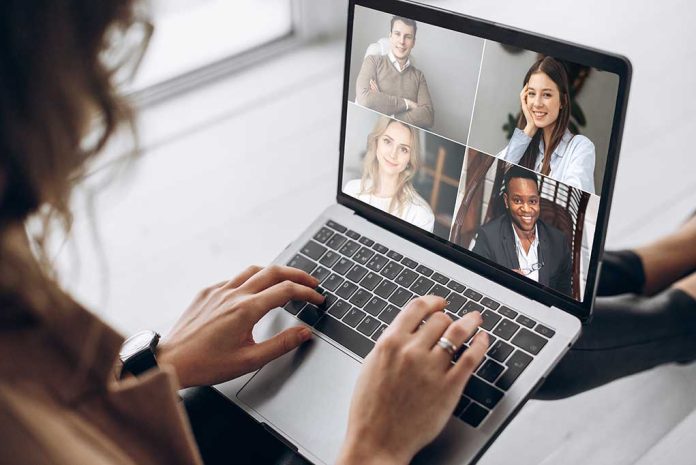 (WatchDogReport.org) – Zoom meetings helped companies operate all throughout the pandemic. The virtual meetings can admittedly be a little boring. But one woman discovered a way to amuse herself when she sat down at her computer to speak to her colleagues.
A woman named Jackie attended 264 Zoom meetings between April 2, 2020, and June 16, 2021 — and she wore the same shirt every single time. Jackie, whose last name was not provided, says she originally started wearing a Hawaiian shirt to the meetings as a joke.
The Washington, DC-based nonprofit employee wore her now-famous shirt to the first meeting, only to decide it would be funny to wear it again. When nobody seemed to notice she had the flowery shirt on, she decided to just keep up the status quo.
Woman proves indiscernible point by wearing same Hawaiian shirt for 264 Zoom meetings in a row https://t.co/IJHRCSeqk1 pic.twitter.com/wFNazZS3YX

— The A.V. Club (@TheAVClub) June 28, 2021
Jackie finally revealed her secret to her team. Hilariously, they had absolutely no idea what she was talking about. Apparently, no one even bothered to notice.
Jackie isn't the first person to wear an outfit over and over again. Texas PE teacher Dale Irby wore the same outfit in every yearbook photo for 40 years.
Picture day! I'm trying to do what Dale Irby did over 40 years of pictures. Oh and he was a PE teacher too! pic.twitter.com/DzfTo2ECWg

— Anthony J. Calderone (@ajcal10PESEL) September 21, 2018
Irby said it was a mistake at first. He wore it accidentally during his second year photos, but then decided to just keep on going for decades afterward.
At least both Jackie and Irby were able to have some fun with their wardrobe!
Copyright 2021, WatchDogReport.org