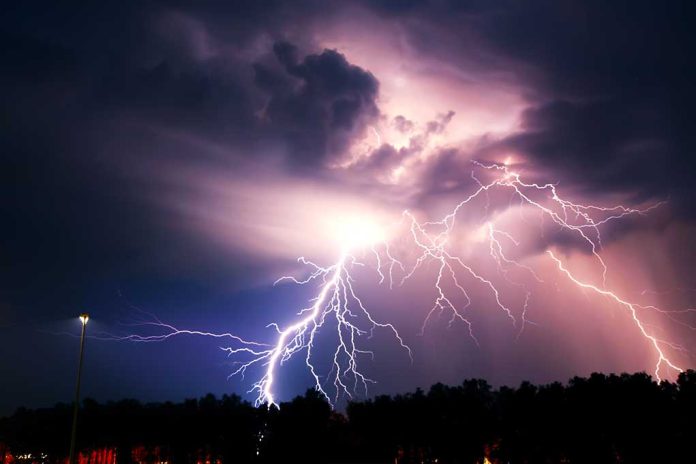 Woman And Her Dogs KILLED – Important Warning Issued
(WatchDogReport.org) – On average, 27 people per year (2009-2018 data) die of lightning strikes. Another 243 suffer injuries, according to government statistics. That means the odds of being hit in any single year is roughly 1:1,222,000, but those long odds are little comfort to the people and their families who have to deal with the aftermath.
Antonia Mendoza Chavez was walking her two dogs near the San Gabriel River in Pico Rivera, California, when they were apparently the victims of a bolt from the sky. Chavez and her pets died; authorities found them after receiving a call.
Others can learn from this tragedy by simply abiding by one simple rule: do not wander around outside if there are thunderstorms in the area. Don't think you're safe if you are miles away from the storm cell, either. Strikes from 3 miles away from a storm are relatively common, and they can hit up to 10 miles away from their point of origin.
A woman and her dogs were killed by a lightning strike while out walking in Southern California Wednesday morning, officials say. https://t.co/OgkTrBMlyj

— ABC11 EyewitnessNews (@ABC11_WTVD) June 23, 2022
Golfers who get caught in a sudden storm, should not take shelter under a tree, but step away from golf carts and clubs, and remove golf shoes that have metal spikes. Even indoors, there are hazards if the building or the lines that bring power into it gets zapped. Stay away from windows, doors, and plumbing fixtures, and do not use a corded phone.
Never underestimate the power of electrical storms. Taking some basic precautions can help prevent a tragedy.
Copyright 2022, WatchDogReport.org