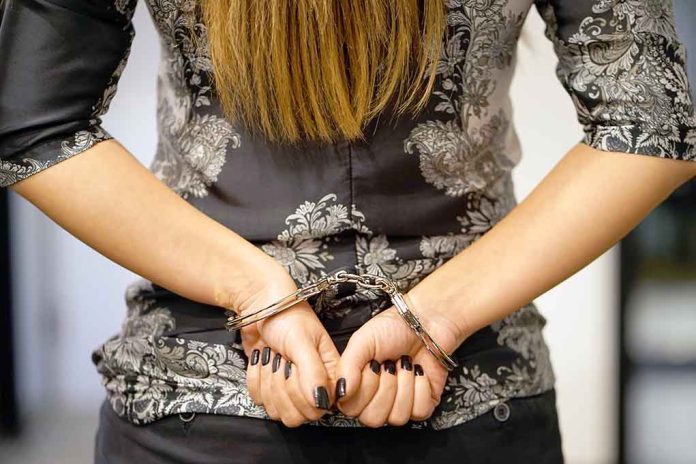 (WatchDogReport.org) – A 37-year-old woman from North Carolina was arrested after it was determined that she had falsely reported her own assault and murder. Margaret Frances Elizabeth Sweeney, also known as Maggie, used a third-party messaging app on her phone to conceal her identity before sending messages to a friend and the Department of Social Services. The statements, sent through the app on Friday, August 18, conveyed that Sweeney had been assaulted with a tire iron, resulting in her death.
The Franklin Police Department began their search for Sweeney immediately after she was reported missing. Social media was used to solicit help from the public. The following day, Sweeney was located, safe and alive, at a park in a neighboring town. That same day, the Franklin Police First Sergeant, Randy Dula, discovered Sweeney had used the phone app to falsely report her death. An arrest warrant was issued, and Sweeney was taken into custody on Monday, August 21, 2023, on several misdemeanor charges related to making a false report to police.
Sweeney was released after she provided a written statement agreeing to appear in court on September 7. Franklin Police Chief Devin Holland confirmed that Sweeney did not have an attorney at the time of her arrest. Holland also noted that Sweeney did not have a "consistent place of residence."
The Franklin Police Department issued a statement about Sweeney's actions which declared that many hours and resources were wasted as officers looked for Sweeney and that her actions caused the community to needlessly worry for her welfare.
Similar incidents occurred in mid-July. Twenty-five-year-old Carlee Russell, from Alabama, called 911 and fabricated her own kidnapping. Russell was arrested and charged two weeks later. An eleven-year-old girl from Florida called 911 and falsely reported the abduction of her friend claiming to have gotten the idea from a challenge she had seen on YouTube.
Copyright 2023, WatchDogReport.org