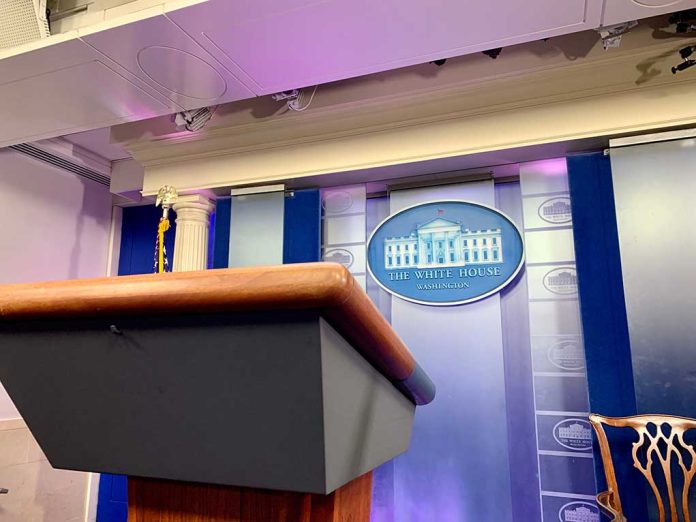 White House Makes Excuse For Biden Calling Dead Woman's Name
(WatchDogReport.org) – President Joe Biden is under the gun, again, for what was either another gaffe or a sad example of an elderly man showing signs of cognitive decline. The White House went into damage control mode, again, making excuses for him after he searched the crowd for a dead congresswoman.
In an event at the White House, Biden appeared to search around after recognizing two bipartisan elected officials and then asked, "Jackie, Jackie, are you here?" in an apparent reference to Representative Jackie Walorski (R-IN), who died in a car accident in August. Later that same day, Press Secretary Karine Jean-Pierre tried to pass it off as simply an error because "she was clearly on top of his mind."
Reporter: "What happened when Biden said where is Jackie Walorski?"

Jean-Pierre: "The president was acknowledging her incredible work."

Reporter: "He said 'Jackie, Jackie, where is Jackie?'"

Jean-Pierre: "She was clearly on top of his mind." pic.twitter.com/y1TljVg1BW

— Greg Price (@greg_price11) September 28, 2022
Members of the Hollywood liberal elite are joining in his hypocritical defense now, as can be seen from two tweets from actor George Takei; one regarding former President Donald Trump and the other about Biden.
Many say we should go easy on a man clearly not himself, probably suffering from early onset mental issues. But I say, Trump is fair game.

— George Takei (@GeorgeTakei) June 8, 2017
When you get to a certain age, it does become increasingly difficult to remember who is alive and who has died. It's not something younger people have to consider that often. Cut the President some slack already.

— George Takei (@GeorgeTakei) September 29, 2022
Republican lawmakers don't seem to be buying the excuses being given. Representative Dr. Ronny Jackson, MD (R-TX), who held the position of physician to the president for both Trump and his predecessor, President Barack Obama, is of the opinion Biden needs to take a cognitive test. Representative Dr. Greg Murphy, MD (R-NC), also shared his concern and expressed his disgust for the way the administration continues to engage in cover-ups when it comes to Biden's continued lapses.
Copyright 2022, WatchDogReport.org