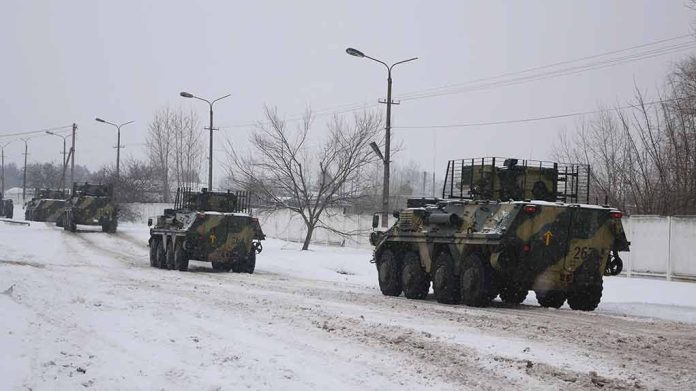 (WatchDogReport.org) – The US Pentagon announced on Wednesday that the White House will send Ukrainian troops another $300 million in lethal aid. This will include major amounts of mortar rounds and artillery, ahead of a highly-anticipated spring counteroffensive against Russian troops, one year after the Kremlin decided to invade Ukraine.
The Defense Department said in a press release that the package will include additional howitzers, anti-armor capabilities, rounds of munitions, and more ammunition for the High Mobility Artillery Rocket Systems, also known as HIMARS. The department said in the release that Ukrainian troops have been using this weaponry to "push back against Russia's unprovoked war of aggression."
This package will also include projectiles fired from aircraft, TOW missiles, Carl Gustaf anti-armor firearms, and the famous Hydra-70 rockets. This entire arsenal will be taken from Pentagon stocks directly to Ukrainian troops.
The Pentagon's announcement comes a couple of days after Ukraine's Defense Minister Oleksii Reznikov announced that its armed forces were finalizing preparations for the coming offensive against Russia, pointing out these were "mostly ready." On Monday, Reznikov followed up by saying the success of this operation would depend on the weapons' availability along with the Ukrainian troops' skill and training. He told the Associated Press this success will also be based on Ukrainian soldiers having all the necessary equipment to conduct this offensive operation, including shells, protection, fuel, and ammunition.
The Pentagon's announcement represents a total of $36 billion that the United States has sent to Ukraine in military aid since the Kremlin decided to invade this nation in 2022. This is also the 37th Presidential Drawdown package of military equipment.
The announcement came a couple of hours after the Kremlin said it thwarted a drone attack perpetrated by Ukraine, whose main goal was to allegedly kill Russian dictator Vladimir Putin in his residence.
The Ukrainian government already dismissed any involvement in this alleged incident.
Copyright 2023, WatchDogReport.org