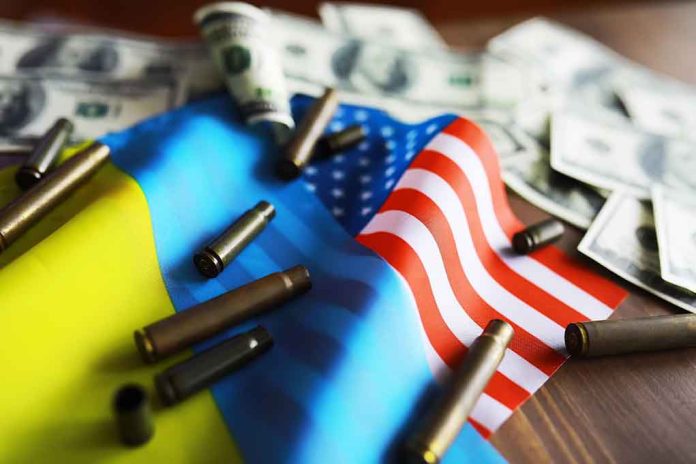 (WatchDogReport.org) – The White House announced on Wednesday that it will send Ukraine $325 million in additional military assistance following leaks of classified Pentagon documents that revealed a concerning weakness of Ukrainian military power. This assistance will completely restock Ukraine's low munitions and heavy artillery stockpiles.
Reports pointed out that this military package will come directly from the stocks of the US Department of Defense supplies. The stores will include artillery for the High Mobility Artillery Rocket System (HIMARS) that Washington has provided to Kyiv. These missiles have been decisive in the Ukrainian forces' efforts to defend themselves from the Russian invasion and even execute aggressive attacks against Russian positions.
Some other weapons that the White House will send include AT4 missiles, 105 mm and 155 mm heavy artillery rounds, anti-tank TOW rockets, anti-tank mines, aerial munitions of undefined precision, harbor, and port security equipment, obstacle-clearing demolition munitions, and many other field equipment. Moreover, the Biden administration will also provide almost ten million rounds of small arms ammunition, following some articles that revealed the Ukrainian military was complaining of a widespread shortage affecting its efficiency on the frontline.
This new military assistance comes ahead of Defense Secretary Lloyd Austin's Friday attendance at Germany's Ramstein Air Base. In this location, a group of 54 countries known as the Ukraine Defense Contact Group will meet to discuss the weapons supply and military assistance to Ukrainian forces.
According to a Financial Times report, Ukraine's Defense Minister Oleksiy Reznikov said in a letter to the country's allies that Ukrainian forces need 250,000 artillery shells per month to change the course of the war.
Different media outlets have been revealing that Ukrainian forces are currently planning a counteroffensive operation against the Russian military, which experts believe is critical to push them out from the occupied territories, including the Crimean Peninsula and the eastern and southeastern regions of the country.
Copyright 2023, WatchDogReport.org