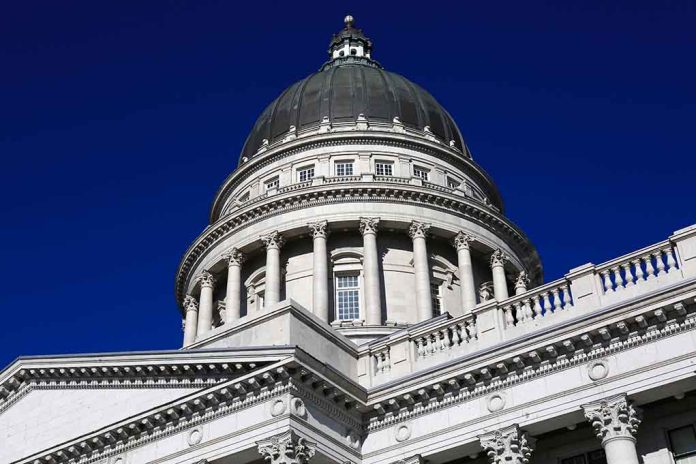 (WatchDogReport.org) – In March 1911, Utah adopted its current state flag. It's a dark blue color with an eagle and American flags surrounding a state crest featuring a beehive and two dates: 1847 and 1896. In 2019, the legislature started taking steps to redesign the state flag, calling on the residents of Utah to submit their own ideas about what the new symbol would look like. According to the Department of Cultural & Community Engagement, there were over 7,000 submissions. Final designs were shared with the public for comment.
On March 2, the state House passed SB 31 State Flag Amendments, describing the newly-chosen flag for Utah. The flag's color is divided into three sections. The bottom is a straight red line, the middle is white and resembles mountains, and blue is at the top. In the center is a blue hexagon with a yellow outline, a beehive in the middle, and a white star under the hive's entrance. On March 21, Cox issued an Executive Order with instructions on how to display the previous flag, now labeled the "historic state flag."
The House has passed the state flag bill!

Not only will Utah have a beautiful historical flag, after Senate concurrence, we'll soon have a new flag to fly in the Beehive State. pic.twitter.com/iZfm5bfzLR

— Lt. Gov. Deidre M. Henderson (@LGHendersonUtah) March 2, 2023
According to the More Than A Flag initiative, each portion of the new flag is symbolic. The blue represents Utah's lakes and dark skies, as well as freedom and tradition, as the color is the same shade as the original. The beehive represents prosperity, the star stands for the state's foundation, the gold hexagon represents Utah's slogan and the region's deserts, the white is obviously the mountains, and the red valley is a nod to the state's landscapes.
The new flag will start to wave over Utah in March 2024, but the historical version will fly at the state's "Capitol at all times," flying only on special occasions and some holidays "at all other state buildings." According to USA Today, Cox asked the legislature to amend SB 31 to read that the historic flag should fly over the new flag when they're on the same pole.
Copyright 2023, WatchDogReport.org