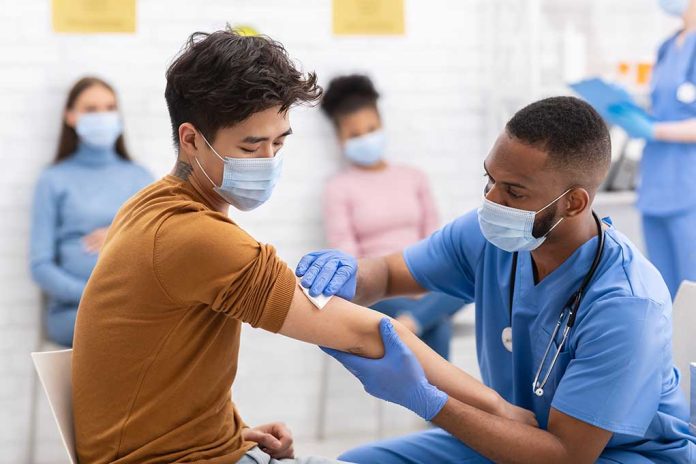 (WatchDogReport.org) – When most US citizens consider getting a passport, they may be thinking of planning a trip to a faraway land to drink in a new culture and enjoy the sights for a vacation. What they typically don't have in mind is having to procure a passport to travel or do business state to state in America.
With the increase of vaccine mandates and restrictions coming from the Biden administration, there's a growing concern of vaccine passport requirements from federal agencies following suit. To prevent that from happening, a group of Republican senators wrote the Prevent Unconstitutional Vaccine Mandates for Interstate Commerce Act that they plan to introduce in the Senate for a vote.
Inside the Bill
The legislation, backed by Senators Rick Scott (R-FL), Ron Johnson (R-WI), Cynthia Lummis (R-WY), and Mike Lee (R-UT), would ban vaccine passport requirements for commerce or travel across the United States. Although all 50 states have a recorded stance on requiring proof of COVID-19 vaccination, some like Alabama, Arizona, and Florida already have their own vaccine passport bans. But, this bill goes a step further, heading off the issue from a federal level.
The act would prevent the FAA, TSA, National Railroad Passenger Corporation, Surface Transportation Board, National Transportation Safety Board, Federal Maritime Commission, and the Department of Commerce from requiring US citizens to prove their vaccination status. The move aims to keep Americans' health information private.
The senators who hope to pass the bill believe President Joe Biden plans to implement more mandates on the American public, and they want to head him off at the pass. Representative Dan Crenshaw (R-TX) stated, "The last thing that Americans need right now is another mandate…"
Current Policy
On September 9, the president issued two executive orders requiring federal workers and contractors to get the COVID-19 vaccine if they want to keep their jobs. He also requested the Department of Labor require employers with 100 employees or more to vaccinate their workers or mandate weekly coronavirus testing for those who refuse. In addition, Biden's mandate forced healthcare workers and facilities that receive Medicare or Medicaid reimbursement to vaccinate against the virus.
The Republican National Committee responded to these mandates with an announcement about its plan to sue the Biden administration for what it refers to as "authoritarian."
Fear of the Precedent
The longer the coronavirus continues, the likelihood of more restrictions from the White House may be inevitable to halt the spread. But, the cost of an encroaching government may be setting a precedent that will affect the United States in the future, changing the societal climate of the nation. The GOP hopes that by passing this new legislation, they can preserve American freedoms before any further damage occurs.
Copyright 2021, WatchDogReport.org