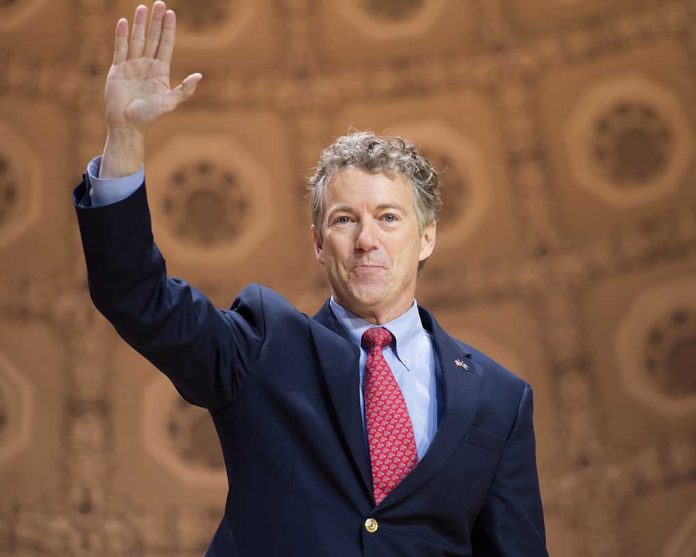 (WatchDogReport.org) – Sen. Rand Paul (R-KY) got a huge bipartisan win with the upper chamber's passage of his bill to end transportation mask mandates. The senator was joined by all of his Republican colleagues along with Democrats Michael Bennet (CO), Kyrsten Sinema (AX), Jon Tester (MT), Mark Kelly (AZ), Joe Manchin (WV), Catherine Cortez Masto (NV), Jacky Rosen (NV), and Maggie Hassan (NH) in passing the bill.
The latest guidance from the CDC puts fewer than 2% of American counties in a "high-transmission area." The onslaught of the Omicron variant of the COVID-19 virus saw unprecedented case spikes across the country, but far fewer hospitalizations and deaths, leading to relaxed recommendations on masking. However, the Transportation Safety Administration (TSA) has decided to extend the mask mandate on planes, trains, buses, and in transportation hubs for at least another six weeks through the end of April.
BREAKING: Senate passes bill to repeal CDC mask mandates for airplanes, public transportation. pic.twitter.com/dqkwAj7Axz

— Forbes (@Forbes) March 15, 2022
That decision sparked Paul and 56 other senators to vote to end the mask mandates once and for all. Those mandates, put in place at the beginning of the pandemic, have been extended three times already. Some health officials believe extending the mandates is a good move, as the right masks help fight the spread of the virus, especially in enclosed spaces. Others are quick to point out that mass-transit filtration systems, like those found on airplanes, buses, and trains, do a great job of filtering out the coronavirus on their own.
The bill faces stiff opposition in the House of Representatives and may not come up for a vote before the mandate expires unless it's extended again. President Joe Biden says he'll veto the bill in favor of the advice of the CDC and TSA.
Copyright 2022, WatchDogReport.org