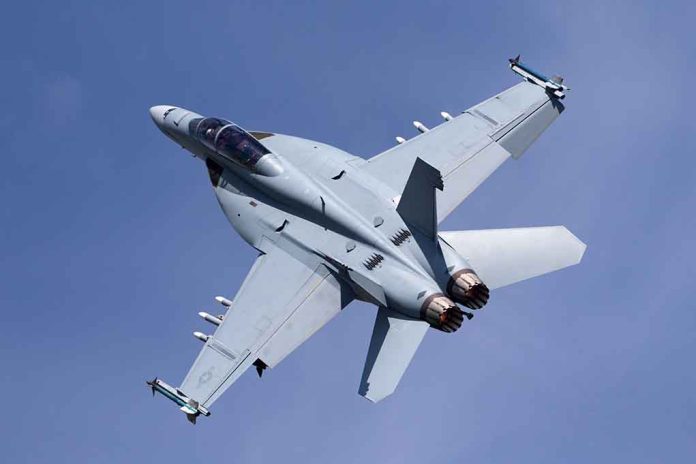 U.S. Military Suffers Major Loss – Tragedy Strikes!
(WatchDogReport.org) – A routine training mission in California that ended in disaster now has a name and a face. Lt. Richard Bullock was the pilot of the F/A-18E Super Hornet that went down in a remote area, killing him. The cause of the crash is still under investigation.
My thoughts are with the loved ones of Lt. Richard Bullock who selflessly served our country as a Navy pilot based in NAS Lemoore. Please join me in praying for his family and the entire NAS Lemoore community. https://t.co/aEg8I2UGGt

— Rep. David Valadao (@RepDavidValadao) June 6, 2022
Bullock flew with the Strike Fighter Squadron (VFA) 113 based at Naval Air Station Lemoore in Trona. The Navy released a statement confirming the lieutenant's identity, adding that the crash happened in an unpopulated area and no civilians were harmed. The Navy and local authorities secured the scene and are working together to investigate.
Military aviation deaths, unfortunately, aren't as uncommon as one might think. Between 2013 and 2018, 133 service members were lost to aviation mishaps and training missions gone awry. The Air Force Times published a story highlighting a three-week period when 6 crashes went into the books, and 16 families got the worst news imaginable.
According to that report, helicopters, fighters, bombers, and cargo plane crashes increased 40% from 2013 to 2017, with Navy and Marine pilots — and their Hornets and Super Hornets — facing double the risk. The Military Times published a database of accidents between fiscal years 2011 and 2018, showing a staggering 8,600 incidents. It also shows that the increase in accidents comes with a decrease in flight time, a number that may be even more concerning if the military looks to reduce the number of times it has to publicly mourn a lost pilot.
Copyright 2022, WatchDogReport.org