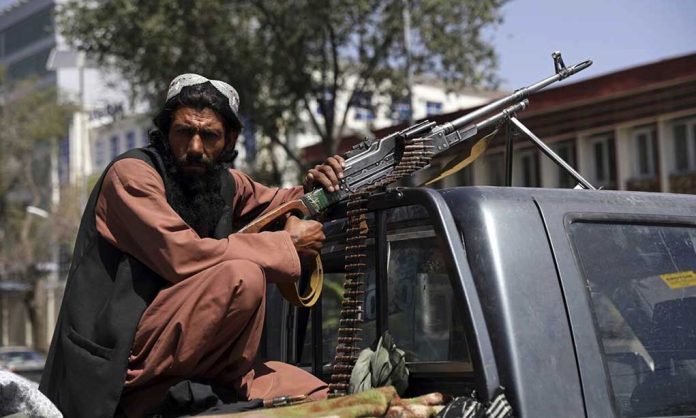 (WatchDogReport.org) – August's chaotic US withdrawal from Afghanistan is now creating a new problem – a wave of US-made weapons and military equipment are flooding into the illegal arms market in one of the world's most unstable regions. Billions of dollars worth of military equipment went into Afghanistan over the last 20 years, and most of it ended up in the hands of the Taliban. Now, much of it's being sold off to dealers.
As the Taliban seized control of Afghanistan, they also collected tens of thousands of weapons the US gave to the Afghan National Security Forces. The group captured some in battle; owners handed many more over in exchange for Taliban promises of amnesty. While the ANSF were still fighting, the Taliban highly valued modern US weapons, but it looks like they're trying to reduce stockpiles and make some money now that they're in control of the country.
$1,200 for a U.S.-service handgun. $4,000 for M4 carbines — especially with a laser sight. American made #weapons seized by the Afghan #Taliban after the US withdrawal are now being openly sold by #gun dealers
https://t.co/sMiBusAnwX
https://t.co/sMiBusAnwX #Afghanistan

— Sarah Jones Reports (@SarahJReports) October 6, 2021
Large numbers of US guns are now starting to appear in Afghanistan's weapon markets, and they're getting premium prices. An M4 carbine sells for up to $4,000 depending on what accessories it's fitted with, while a Russian-made AKM or AK-74 goes for just $900. Merchants say the main buyers are regular Afghan citizens, who want them either for self-defense or to resell across the border in Pakistan.
Taliban spokesman Bilal Karimi insists no guns are for sale, and that all weapons captured by the group are "listed, verified… saved and secure under the Islamic Emirate for the future army." However, other Taliban leaders admit many have been sold, and the gun dealers say there's strong demand for American weapons. The big question is, will some fall into the hands of terrorist groups like ISIS and al-Qaeda? The answer, unfortunately, is likely yes.
Copyright 2021, WatchDogReport.org