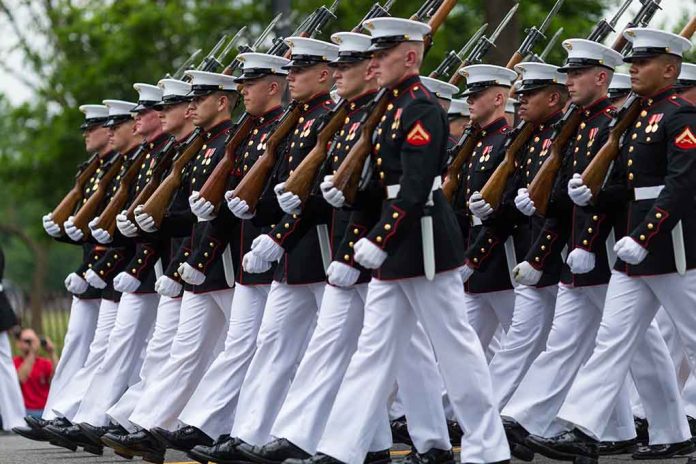 (WatchDogReport.org) – According to an Associated Press (AP) report, Biden administration officials revealed that the US military plans to deploy armed personnel on commercial ships that travel through the Strait of Hormuz. The officials told the news agency that the main goal behind this move is to stop the Iranian regime from harassing and seizing civilian vessels.
Speaking anonymously, the officials pointed out that a decision hadn't been reached yet, and that US military officials are negotiating this move with US Gulf Arab allies. They added that Navy and Marine personnel would provide this security only if the vessels requested it.
One official told AP that the process was complex as any deployment would need the approval of the nation under which the vessel is flagged and the country where the owner is registered. This official revealed this hadn't happened so far, adding that it might take some time.
During a press conference, Brig. Gen Pat Ryder told reporters he had nothing to say on this case. However, Ryder explained that additional Marines, aircraft, and vessels had been deployed to the Persian Gulf, making it easier for the US to respond to any provocation from Iran.
In another press briefing, White House National Security Council spokesperson John Kirby explained the importance of the strait and Washington's concerns about Iran's harassment. He told reporters that the waterway is a crucial "choke point" in the maritime world, pointing out that Tehran has threatened to affect it through its aggressive actions.
Since 2019, the Iranian regime has been seizing numerous ships in the strait to pressure Western governments over negotiations regarding the collapsed nuclear deal. Experts believe deploying American troops on these commercial vessels might be a mistake from the US military as this could escalate tensions with Tehran.
Reports pointed out this move would represent a significant commitment in the Mideast by American armed forces, as the Pentagon keeps focusing on China and Russia.
Copyright 2023, WatchDogReport.org