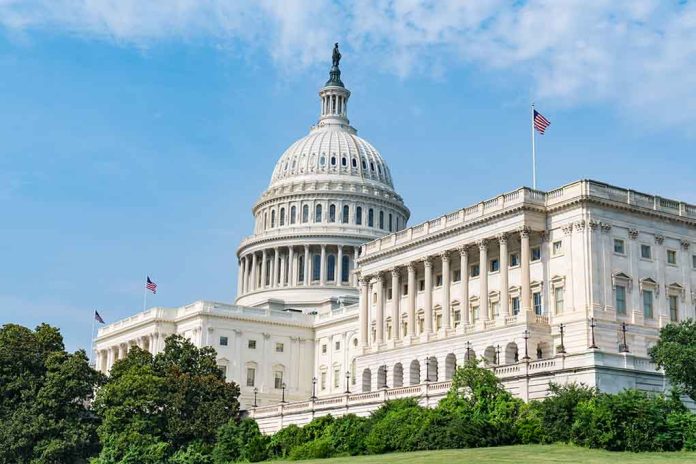 (WatchDogReport.org) – In January, the House of Representatives voted, with bipartisan support, to create a select committee to investigate the Chinese Communist Party (CCP) and its worldwide influence. Speaker of the House Kevin McCarthy (R-CA) appointed Representative Mike Gallagher (R-WI) to head up the panel. On February 28, the new committee held its first primetime congressional hearing, but it did not go off without a hitch.
During the beginning of the meeting, a couple of protesters from CODEPINK interrupted the proceedings, holding signs supporting China and the Asian community. One read that "China is not our enemy," and the other said, "Stop Asian Hate." Both activists were swiftly removed so the hearing could proceed.
After their removal, the committee chair mocked one of the protesters for holding his sign upside down.
Two Code Pink protestors interrupted the inaugural hearing of the Select Committee on Strategic Competition with the CCP.@RepGallagher: "Your sign is upside down."

😂😂😂 pic.twitter.com/taOzGtBLf3

— Rowan Saydlowski🇭🇰 (@rsaydlowski) March 1, 2023
CODEPINK describes itself as a feminist grassroots entity with a mission to end war, support peace, and stand up for human rights. Members of the organization believe in boosting life-affirming programs and universal healthcare. They engage in a variety of activities to get their point across and wear pink to identify themselves.
At least one representative stuck up for the CODEPINK protesters. Representative Ro Khanna (D-CA) said what they did "takes guts" and how important it is to listen to opposing points of view to differentiate between freedom in America and communist China.
Setting aside the brief interruption, the committee convened the meeting to discuss a myriad of topics, including China's role in the fentanyl crisis, the potential war over Taiwan, and the recent Chinese spy balloon that flew over the US. The US State Department lists America's relationship with China as strategically competitive, but with recent events, some wonder about future relations.
Former National Security Advisor H.R. McMaster testified during the committee hearing, saying he believes the best way to stay out of a war with China is to practice "peace through strength."
Copyright 2023, WatchDogReport.org