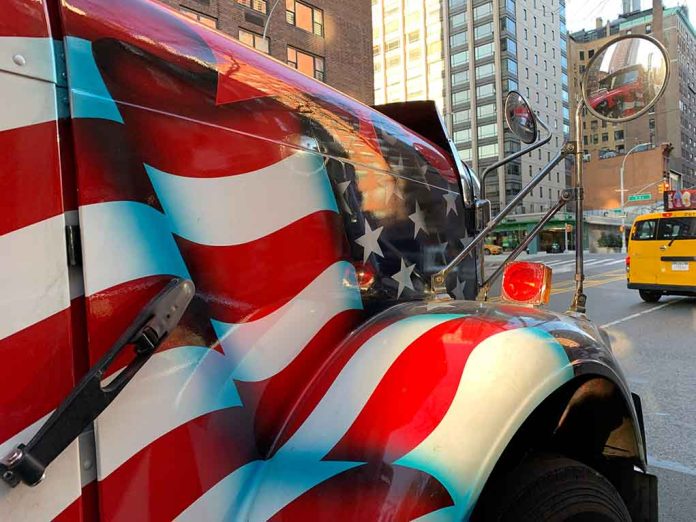 (WatchDogReport.org) – On January 22, truckers in Canada rallied against the government, protesting the draconian measures infringing on their freedoms. Now, American truckers on the west coast are taking a page out of the book of their counterparts in the Great White North, forming their own version of the Canadian Freedom Convoy, dubbed the "The MAGA Convoy." It plans to leave from LA and head to Washington, DC, to President Joe Biden's doorstep, on February 25.
"Okay it's our turn! The Canadians did a great job, but we're going to boost the Freedom Convoy and include a MAGA Convoy too," the organizers said in an email. So far, they've received more than $6,000 in donations towards their plight.
The convoy is just starting to gain steam after Justin Trudeau revealed that the majority of the funding for the Canadian truckers came from the US. Canadian media confirms that report with a graph from the site handling the donations:
Who is funding the #FreedomConvoy?

If the leak of @FreedomConvoy donations data from @GiveSendGo is accurate….

The majority of donors to the #FreedomConvoy — 55% — are American, which is more than the number of Canadian donors — 39%. pic.twitter.com/ywBcSbywxS

— Jon Woodward (@ctv_jon) February 14, 2022
US support for the Canadian effort ensures that a west coast version of the Freedom Convoy would be an overwhelming success. While Canadian truckers and their supporters did a fantastic job of fundraising and offering assistance in real-time, it's apparent they would have come up short without American support.
Freedom convoys have sprung up all across the globe since the Canadians launched their first effort. Reports from New Zealand, France, and Israel point to a global community, not just Americans, fed up with mandates.
Copyright 2022, WatchDogReport.org