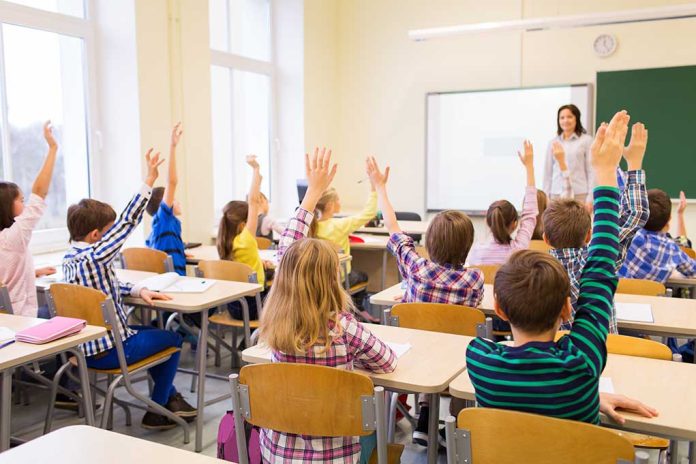 (WatchDogReport.org) – In December 2022, Russian source Mediazone announced the Russian Ministry of Education approved a brand new school curriculum. The lessons included information about the war in Ukraine, the annexation of Crimea, rules for firing a Kalashnikov assault rifle, combat first aid, and the principles of using hand grenades. According to the source, students would likely also receive information about criminal punishments for extremism, right-wing Nazi group members, and left-wing radicals. Recent footage raised concerns about military education in the region.
On March 15, Business Insider reported on a new video released by the Russian state media outlet, RIA Novosti Crimea. The footage first shows young children in a classroom setting, with a few of the kids racing to put together a rifle. The video then plans to an even younger group of kids dressed in military uniforms, carrying what seems to be the same type of weapon. The children perform moves in unison in response to an off-camera instructor. The last clip appears to be in the same building, showing two older kids engaging in hand-to-hand combat. One of the participants seemed to claim victory by holding a knife-like item at the other's throat.
Newsweek reported the video represented the school's "patriotic education of children." According to Business Insider, RIA Novosti Crimea stated the school was the first to host these types of lessons.
Russian authorities in Crimea released footage showing young children getting military training, assembling rifles, and doing martial arts drills in a school. The exercise is part of the school's "patriotic education of children." pic.twitter.com/75BVxGegmT

— Newsweek (@Newsweek) March 16, 2023
The New York Post quoted a translation from the speaker of the Parliament of the Republic of Crimea, Vladimir Konstantinov, stating over 60 people, "including kindergarten" and other school-aged children, are participating in "drill training" and "martial arts." BBC News Moscow Bureau Senior Journalist Will Vernon stated these courses will hit secondary schools in Russia later in 2023.
Basic military training courses are due to be rolled out in Russian secondary schools later this year. But one school in Russia-annexed Crimea has already introduced the lessons. This video was released by Russian state news agency RIA Novosti. pic.twitter.com/1ODXW9Md4T

— Will Vernon (@BBCWillVernon) March 15, 2023
Children in Russia start their secondary school education just a year before those starting middle school in the United States — at age 10.
Copyright 2023, WatchDogReport.org