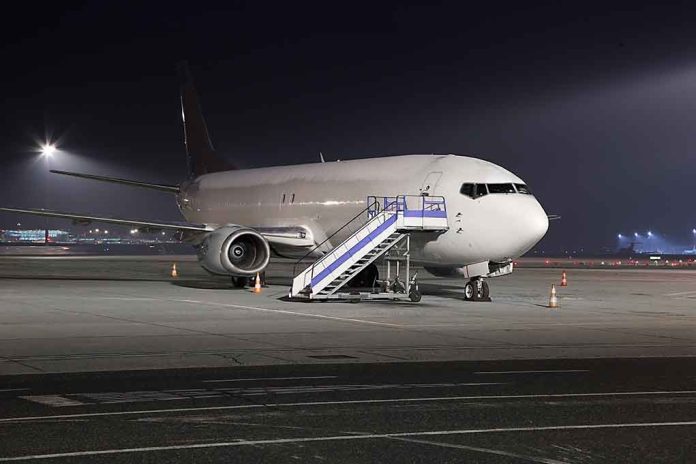 (WatchDogReport.org) – For months, President Joe Biden's administration has been resettling illegal migrants across the United States in stealth flights conducted in the early hours of the morning. Much of the information on who these immigrants are is undisclosed, but they have been reported as being mostly minors with adults, whose relationships with the minors are unknown, accompanying them. These flights have taken place as late as 3 a.m., infuriating conservatives across the country who continue to push for more information about these "midnight" transports.
Following an alleged lull after these flights were discovered late last year, they've reportedly ramped back up. According to an exclusive by The Gateway Pundit, a flight full of illegal migrants took off from El Paso, Texas, and landed in Allentown, Pennsylvania, in the middle of the night on December 30. The flight was one of many that have taken place over the last several months.
Hundreds of immigrants have been transported across the country from Texas, in the Biden administration's attempt to settle tens of thousands of immigrants brought into custody late last year. This has caused outrage from conservatives–most notably, from Gov. Ron DeSantis, who noted that a population the size of a "medium-sized American city" enters the country illegally "every month." New York Post reporter, Miranda Devine, broke the story on these flights being conducted under cover of darkness late last year, which prompted an immediate response from the governor.
THIS MUST BE STOPPED. Congress has the purse, so STOP the funds for these flights! @HouseGOP @SenateGOP

While Americans Slept Thursday Night "World Atlantic" Flight 695 Transported a Full Flight of Illegal Immigrants from El Paso to Allentown, PA https://t.co/CsplG0Qfax

— Team CRUSH ✝️ 🇺🇸 (@NorCalCrush) January 1, 2022
DeSantis harshly criticized the Biden administration directly in a series of press conferences, calling the flights "secret" and Biden's immigration policy "failed." Last year in Florida, an adult migrant masquerading as a minor was transported into the state, going on to murder a father of four–his sponsor. Yery Noel Medina Ulloa, 24, killed Francisco Javier Cuellar, 46, in Jacksonville. When police arrested him, he was reportedly covered in the victim's blood. DeSantis openly blamed Biden's refusal to enforce immigration laws for the murder.
Months later, the flights are continuing. And the possibility that a criminal could be flown to a neighborhood near you is increasingly a cause for concern.
How do you feel about illegal migrants being relocated across the country? Do you think Biden is trying to hide the flights for a reason?
Copyright 2022, WatchDogReport.org