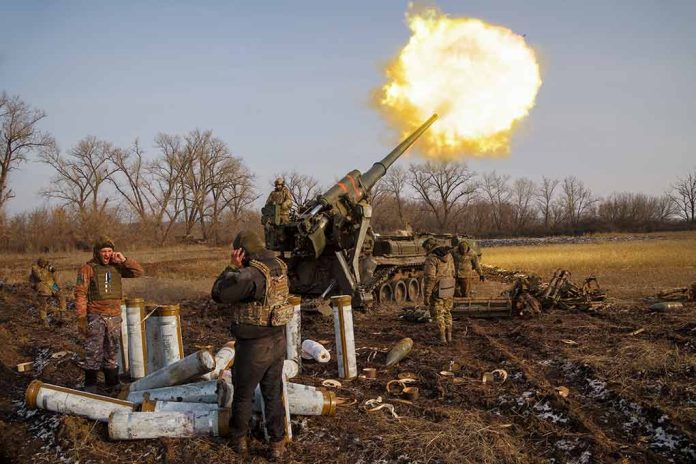 (WatchDogReport.org) – According to videos published on social media, Ukraine's armed forces destroyed one of Russia's most crucial counter-battery radar systems. The footage shows what appears to be an advanced Excalibur 155mm precision-guided artillery shell striking a Russian Zoopark-1 1L219 and causing a massive fireball.
Reports point out that the video was published by the Ukrainian military, which usually distributes clips of successful strikes against targets of Russian forces. While there has been previous footage of attacks against radar systems, this was the first time in months that the Ukrainian armed forces filmed and published a strike against a military objective.
The last time it happened was back in March when Ukraine's special forces published a video showing Kyiv's fighters bombing a Zoopark-2 reconnaissance radar system. That attack occurred at an unspecified area in the contested eastern region of Donetsk.
According to Ukrainska Pravda, Ukraine's special forces spokesman explained that the strike against the radar was a "significant success." He pointed out that the radar system was a "costly target," causing too much trouble for Ukrainian troops. He noted that the Zoopark can detect Ukraine's artillery targets, such as mortars and rocket systems.
According to the United States military, Excalibur artillery shells use GPS and an inertial navigation system, making them fully resistant to jamming. These are programmed with different coordinates before being shot, with the projectile gliding toward its target.
As noted by defense manufacturer giant Raytheon Technologies, Excalibur is a precision weapon with a hardware range of 25 miles. This weapon can also target almost any objective with an accuracy of 6 feet. Moreover, Excalibur is fully compatible with all howitzers it has been tested with.
According to Dutch intelligence outlet Oryx, the Russian armed forces have lost nearly a dozen Zoopark radar systems of different types in Ukraine. In September 2022, Pentagon documents revealed that the US had provided the Ukrainian military with numerous Excalibur shells. The documents didn't specify the exact amount.
Copyright 2023, WatchDogReport.org