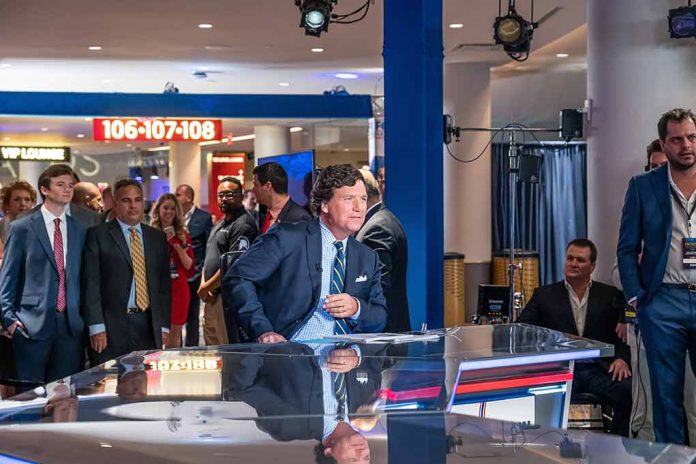 (WatchDogReport.org) – In late April, Fox News shook up the political landscape on all sides when they announced they were parting ways with their number one rated host Tucker Carlson. Since then, the network has allegedly attempted to sour the public on Carlson by releasing commercial break records, with Tucker speaking frankly and leaking text messages. Fox has denied leaking these materials, but critics doubt the truth of their statement.
Carlson is still under contract with Fox until the year 2025. If he wants to be paid, he'll have to remain off the air and thus be removed from political commentary leading into the 2024 election. His lawyer is currently negotiating with Fox over this matter while accusing them of breach of contract.
Carlson's only statements came via a Twitter video released on his personal account, where he praised the American people and denounced the liars in the media. That video garnered over 81 million views. Rumors have swirled that Carlson may start his own podcast or he may join Newsmax. The owner of OANN publically stated he'd pay Carlson a fortune to join his network.
The speculation ended earlier this week as Tucker Carlson released a second video on his Twitter account. The caption read, "We're back." The three-minute video began with Carlson opining about media lies and false 'fact checking' throughout. Toward the end, he said Twitter is one of the last remaining free speech platforms and that he will bring a show similar to his former Fox production to the platform along with additional content.
Fox has seen their ratings crash across the board in prime time since parting with the popular host. They've been rotating different network talent in Carlson's former 8 pm time slot. That time slot has seen its ratings decrease by more than half registering less than 1.5 million viewers per night. Over 13 million people saw Tucker's video announcing his Twitter plan in just one hour.
Copyright 2023, WatchDogReport.org