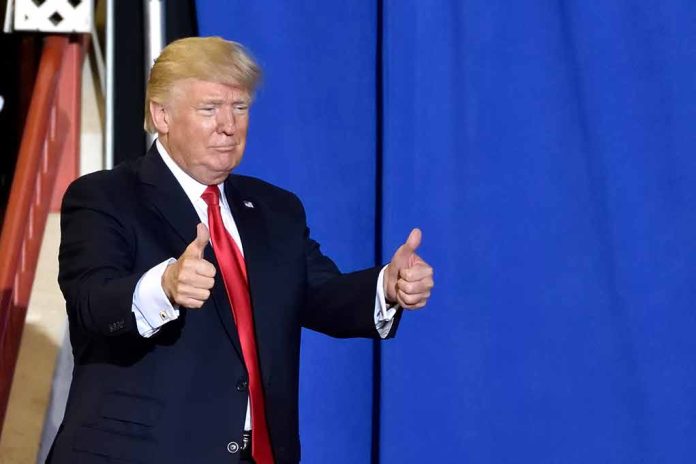 (WatchDogReport.org) – According to a September 24 Washington Post-ABC News poll, former president Donald Trump has a 10-point lead over US President Joe Biden. The GOP presidential candidate would beat the Democratic leader 52 percent to 42 percent in a hypothetical rematch of the 2020 presidential. The numbers in this survey show a significant improvement in Trump's popularity, even when he's currently facing numerous legal issues.
Following the poll's publication, senior Trump adviser Jason Miller wrote on his Twitter account that "heads are EXPLODING" at the Washington Post because of the results showed. Many political analysts also said on social media this confirmed Trump is more popular than ever, as the former commander-in-chief had 47 percent of support during the 2020 presidential election and 46 percent during the one in 2016.
As noted in the Washington Post-ABC News survey, the results showed that President Biden's popularity keeps decreasing, with voters souring on the migrant crisis, the economy, and even his age. The poll pointed out that while his administration and campaign have boasted about "Bidenomics" progress, 44 percent of voters surveyed said that their financial situation deteriorated under his presidency.
Only 30 percent praised his handling of the US economy, while 37 percent approved his presidency and 56 percent disapproved it. On immigration, the president's approval is at 23 percent, while 45 percent strongly disapprove his administration's performance on this matter. Also, 74 percent believe he's too old to be reelected, while 50 percent think the same about Trump.
In the latest polling aggregate from RealClearPolitics, the former president also leads the Democratic leader by only one percentage point. Additionally, an NBC News survey released on September 24 showed that Biden and Trump are currently tied at 46 percent each. These results were surprising as the same survey conducted in June showed that the Democratic leader had 49 percent of support while the former commander-in-chief only had 45 percent.
Copyright 2023, WatchDogReport.org