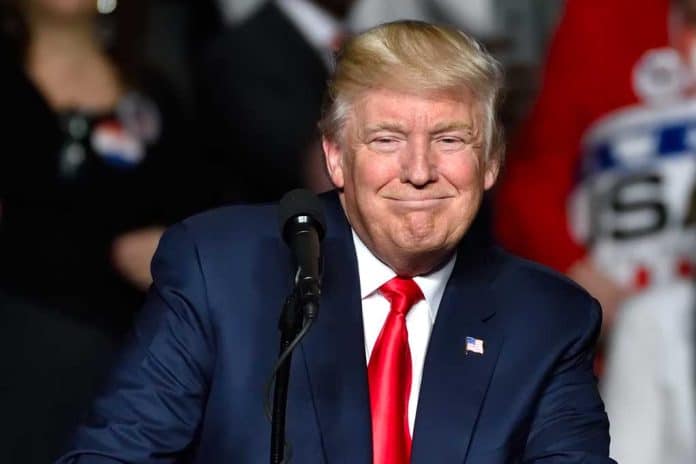 (WatchDogReport.org) – Former President Donald Trump gave a speech to thousands of supporters in Florence, Arizona, on January 15. He addressed the crowd in a high-energy outline of his plans to combat liberal policies currently in place as he moves forward with plans of his own to launch a new social media company, Truth Social.
Trump declared to attendees that after they take back the House and Senate, they'll take the White House in 2024. Revealing his agenda for the future, he said that Republicans will need to focus on illegal immigration, discriminatory COVID-19 policies and thoroughly investigating the events surrounding the Capitol protests of January 6.
The Fake News never shows the massive crowds! pic.twitter.com/HoA4zUUSzk

— Liz Harrington (@realLizUSA) January 17, 2022
Sounding off on the state of the country under the Biden administration, Trump expressed frustration with Democrats' restrictions and mandates, saying they are "decimating our economy." Blaming perverse prioritization for influencing current policies, he denounced "Big Pharma making a fortune" while "Democrats are putting corporate profits over the rights of the American people." He also described the policies as discriminatory, saying, "the Left is now rationing life-saving therapeutics based on race," asserting that the policies are "denigrating White people." His speech added to a body of work in his ongoing efforts to oppose Democrats' COVID-19 policies.
ICYMI: President Donald J. Trump Arizona Rally Recap pic.twitter.com/TLbOupK6sX

— Liz Harrington (@realLizUSA) January 17, 2022
He also decried DirecTV's recent decision to cancel One America News, a decision come to after a campaign of complaints against the network. The removal will severely hinder OAN's reach to the public. The former president considered out loud the possibility of conservatives ending their use of AT&T's services, DirectTV's parent company, but declined committing to any kind of formal boycott.
During his speech, Trump also endorsed former news reporter, Kari Lake, in the coming primary to replace the current Republican governor, Doug Ducey.
Trump promised an America First agenda if the GOP takes power, drawing loud cheers from the crowd. His next rally will happen in Texas on January 29. And his speech is likely to have similar levels of enthusiasm. It looks like Trump is revving at full throttle into the midterms. We'll be covering the next speech here.
What do you think of Donald Trump's speech? Send us an email and let us know what you think.
Copyright 2022, WatchDogReport.org