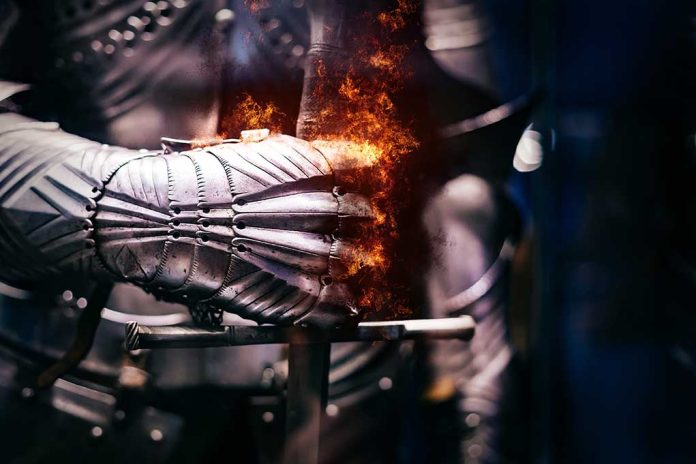 (WatchDogReport.org) – Former President Donald Trump depicted the United States as a "beloved nation" that could soon fall into tyranny during a June 24 speech at the Faith & Freedom Coalition's Road to the Majority Police Conference. Trump then said his presidential campaign was the "righteous crusade."
The former commander-in-chief told attendees that "for seven years," he has been fighting to save America from "evil" and the "sinister forces" who hate the country. He also called attendants to join him in this "crusade" to stop the "atheists and Marxists" and to help him restore the Republic as one nation under God. Trump delivered this speech when he started talking about the alleged mishandling of classified documents, for which he was indicted with 37 criminal counts. He pleaded not guilty to each one of them.
In the speech, Trump claimed that a commander-in-chief has "the absolute right" to take these classified documents, keep them, or give them back to authorities if he wants to. He also said about his indictment that he considers it a "badge of courage" as the people who are behind it are "fascists" and "communists."
The audience cheered after Trump noted that his poll numbers increased after the Department of Justice's indictment. The former commander-in-chief also touted Roe v. Wade's overturning, as that day marked the first anniversary since the Supreme Court reversed the 1973 decision. However, Trump said the federal government is vital in protecting "unborn life" without offering too much insight into a theoretical framework for a nationwide abortion ban.
The Faith & Freedom Coalition Conference lasted for three days and included the presence of other GOP presidential candidates. On June 23, Florida Governor Ron DeSantis also delivered a speech at the event and received massive cheers from the audience. However, different reports pointed out Trump was the most enthusiastically received Republican leader.
Copyright 2023, WatchDogReport.org