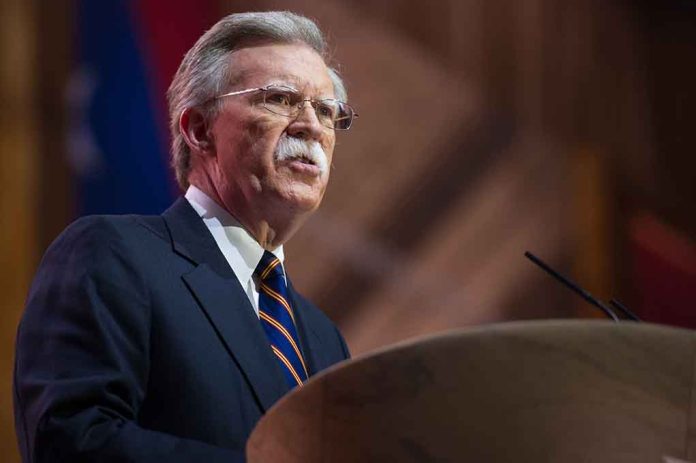 Assassination PLOT Revealed – Charges Filed!
(WatchDogReport.org) – The Islamic Republic of Iran is considered to be the world's largest state sponsor of terrorism. It's also one of the most anti-American and anti-Israel groups, labeling them the great and little Satan, respectively. The state became particularly angry when former President Donald Trump authorized a drone attack in Iraq that killed Qasem Soleimani, who was the commander of their Islamic Revolutionary Guard Corps (IRGC) — aka Quds Force — and has vowed revenge against him and the members of his administration.
The United States Department of Justice (DOJ) has filed a criminal complaint against Shahram Poursafi, alleging he was working with individuals in the United States in an attempt to assassinate former National Security Advisor John Bolton and at least one other person. The affidavit in support of filing the charges claims he agreed to pay more than $250,000 to have Bolton killed.
Shahram Poursafi, a member of Iran's Islamic Revolutionary Guard Corps, faces charges for his alleged role in a transnational murder plot targeting former National Security Advisor John Bolton. Learn more at https://t.co/WBb4ywoDK5.@DOJNatSec pic.twitter.com/47YENwlztv

— FBI Washington Field (@FBIWFO) August 10, 2022
The court papers indicate an extended contact with someone only identified as a confidential human source (CHS), who was first providing photographs and video of Bolton's home and office. This first contact was made in October 2021, and numerous communications were made using burner phones and encrypted messaging apps through at least late April 2022.
Poursafi allegedly ran this operation while still in Iran, and according to a wanted poster issued by the FBI, he's a uniformed member of the IRGC. He's wanted in connection with using interstate commerce in the commission of murder for hire and for providing material support to terrorists.
Copyright 2022, WatchDogReport.org