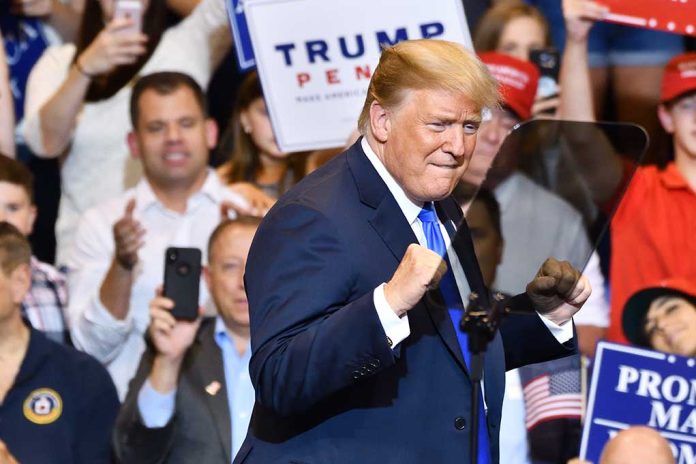 Trump's Promise: No More Dependence on China
(WatchDogReport.org) – On November 15, former President Donald Trump officially announced he was launching a campaign to reclaim the White House in 2024. During his press conference from his Florida home at Mar-a-Lago, he promised to take on the People's Republic of China (PRC) and its influence over America.
"We will launch an all-out campaign to eliminate America's dependence on China," Trump said.

Former President Trump argued that his policies are the only ones that can keep the US competitive and prevent the #CCP from becoming the world's leading power. https://t.co/3mgMOzSrHM

— The Epoch Times (@EpochTimes) November 17, 2022
During his speech, Trump claimed some of the supply chain problems facing the country could be traced back to the PRC, and he said a part of an "all out campaign to eliminate America's dependence on China" would be an effort in stabilization. He also said that bringing manufacturing plants back to the United States would be part of this plan, just as it was during his previous administration.
In 2017, Trump ordered an investigation into China's trade practices because it did not live up to promises made when it became part of the World Trade Organization (WTO) on keeping its markets open to American goods and services. China has been accused of using unfair practices to obtain American technology and influence universities and colleges in the United States, including the use of so-called "Confucius Institutes" on campuses across the country.
The ex-president also claimed the tariffs and taxes his administration placed upon the PRC made him the first president that "had ever sought or received $1 for our country from China." He alluded to this causing the Asian nation to play "a very active role in the 2020 election." Canadian Prime Minister Justin Trudeau has also accused China of doing something similar in his country's 2019 election.
Copyright 2022, WatchDogReport.org