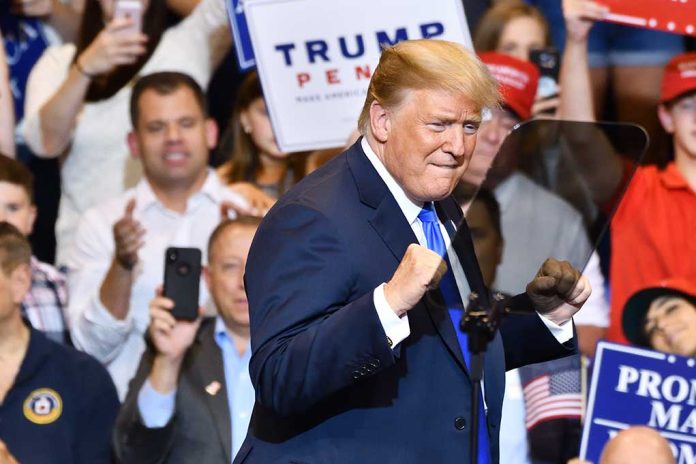 VICTORY – This Is Trump's Finest Hour Yet
(WatchDogReport.org) – Representative Liz Cheney (R-WY) won her 2020 primary election, garnering nearly 74% of the vote cast by Republicans in her state. In the August 18, 2022, version of that contest, she couldn't even manage to get 30% and got buried by Harriet Hageman, who had the endorsement of former President Donald Trump.
Liz Cheney vowed to do all she could to keep Donald Trump out of the White House and said she would decide in the coming months whether to run for president herself, after she lost to a Trump-backed primary challenger in Wyoming https://t.co/e4wKEbVQxY 1/5 pic.twitter.com/hz6u8ZjL7A

— Reuters (@Reuters) August 17, 2022
Cheney is one of only 10 Republicans in the House of Representatives who voted to impeach Trump. She's also only one of two from the right side of the aisle to be part of the committee "investigating" the events surrounding the January 2021 Capitol Hill riots. Polls about the day indicate her participation on that panel could have something to do with her loss.
A poll from mid-June conducted by Yahoo News-YouGov shows an astounding 74% of Republicans answered either "a great deal" or "some" when asked how much "left-wing protesters trying to make Trump look bad" were to blame for the January 6 events. It also put Cheney's favorability rating among GOP members at a meager 15%.
Because much of politics is a numbers game, those two sets of digits could very well explain why her vote total was so low. They could also be a harbinger of doom if she were to carry forward with a possible run for president in 2024 — something she claims to be "thinking about" now that she won't have a job in Washington to keep her busy.
Copyright 2022, WatchDogReport.org