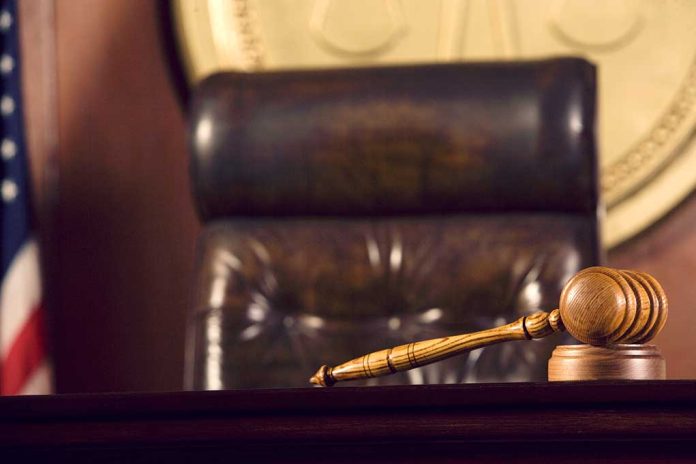 (WatchDogReport.org) – Former President Donald Trump was indicted on August 14 with state charges out of Georgia's Fulton County over his alleged efforts to overturn the 2020 presidential election. Along with the former commander-in-chief, former White House chief of staff Mark Meadows, attorneys Sidney Powell, Kenneth Chesebro, Rudy Giuliani, Jenna Ellis, John East, and others were also charged. This is the fourth time Trump has been indicted this year after a years-long probe against him.
The prosecutors used a statute typically associated with mobsters to accuse the Republican leader, along with some of his aides and lawyers, of a "criminal enterprise" to keep him in power. The indictment details dozens of acts Trump or his allies committed to reverse his defeat by then-Democratic nominee Joe Biden. These include beseeching Georgia's Secretary of State to find votes for him to win the state, harassing election workers, and trying to persuade state lawmakers to appoint new electoral college electors.
Georgia Fulton County District Attorney (DA) Fani Willis gave the former president and the other defendants until August 25 to formally surrender. The DA has requested a trial date of March 4, 2024 — the day before 'Super Tuesday' when voters begin casting ballots for their presidential primary pick.
Many Trump allies have claimed that the timing of the four indictments the former president has been struck with are politically convenient. They claim that the charges against the Republican leader have come right after media outlets revealed critical news about the federal government, the president, or the investigation into Hunter Biden.
After the indictment was formally issued, the former president's legal team stated that the charges against Trump were "shocking and absurd." The team added that prosecutors presenting the case were relying on numerous witnesses that "harbor" their political and personal interests.
Copyright 2023, WatchDogReport.org