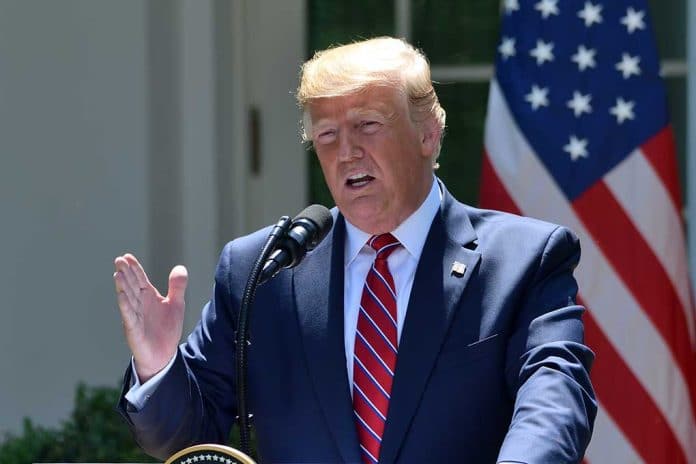 (WatchDogReport.org) – Former President Donald Trump made a recent statement addressing the handling of the COVID-19 pandemic. He expressed harsh criticism of the Biden administration's federal overreach, specifically citing the harm caused to red states by the federalized distribution of antibody treatments for sick patients.
Taking a defiant posture against the current COVID-19 regime, Trump called for his supporters to push back against the Democrats' draconian measures, declaring that "MAGA nation should rise up and oppose" these policies across the country. He cited Joe Biden's past statements declaring that the federal government is not a solution to the problem; he also mentioned Joe Biden's infamous promise to "never issue mandates" and condemned alleged discussions within policy circles to institute a vaccine mandate for schoolchildren in cities controlled by Democrats.
The Biden administration's measures continue despite new evidence suggesting that the virus has evolved into variants that are possibly less deadly than the flu. As the Daily Mail recently reported, emerging studies indicate that the Omicron strain may "kill 100 times fewer people than Delta" and that the Delta strain's fatality rate was already comparable to the flu.
NEW!

President Trump:

"…Our administration did what they said could not be done—vaccines in record time. But we never issued mandates, and I never would! People should be able to choose how they want to govern their own health. The federal government must be reined in…" pic.twitter.com/fP8nsjy1TX

— Liz Harrington (@realLizUSA) January 5, 2022
Information on cases also suggest that coronavirus vaccines provide little to no protection against the new variants, and recent studies released by scientists in the US and Israel seem to support this data. With the effectiveness of vaccines in question by many and the virus shown to be growing less and less dangerous, it is hard to imagine how the continuation and expansion of President Biden's ineffective policies will be justified.
Even CDC Director Rochelle Walensky has publicly downgraded her concerns about the virus. In a recent interview on Good Morning America, Welensky was asked a question about "rethinking how we're living with this virus" and if we should consider the possibility that COVID-19 is "potentially here to stay." Her response was telling. With wide eyes, the CDC director conceded that over 75% of recent deaths have been victims with "at least four comorbidities" and that "really, these are people who were unwell to begin with." Her statement indicates a reduction in concern by the government for dangers associated with COVID-19, which begs the question: why are we advancing further mandates and restrictions instead of terminating them altogether?
As credible doctors, popular celebrities and athletes continue to materialize and express skepticism about vaccines and lockdowns, public opinion is visibly aligning with Trump's stance on this issue. Documents of protest by doctors across the world like the Great Barrington Declaration have caused a stir in Biden's bureaucracy, particularly with Dr. Anthony Fauci. And experts like Dr. Robert Malone have caused a major reaction from the mainstream media with interviews in the conservative media, and even on popular outlets like Joe Rogan's podcast. Joe Rogan himself has made a stir with his opinions about Covid restrictions and therapeutic treatments he has recommended to his millions of followers. And sports icons like Kyrie Irving have been responsible for sparking large protests in response to the devastating impact of vaccine mandates.
The mandates and restrictive measures implemented during the coronavirus pandemic have caused economic upheaval and a loss of freedom for many Americans. Two days after Trump released the statement, the Supreme Court heard oral arguments about two COVID-19 vaccine mandates issued by the current president. The cases made it to the high court because others rose up and pushed back against the commander-in-chief.
As Trump's call to rise up against restrictions and mandates echoes in conservative circles, resistance will likely intensify. Whether you are for or against vaccine mandates and COVID restrictions, the debate is sure to heat up as opinions continue to diverge and leaders in the Republican party begin to follow the former president's lead.
Do you agree with Trump? Should Americans rise up and fight back?
Copyright 2022, WatchDogReport.org