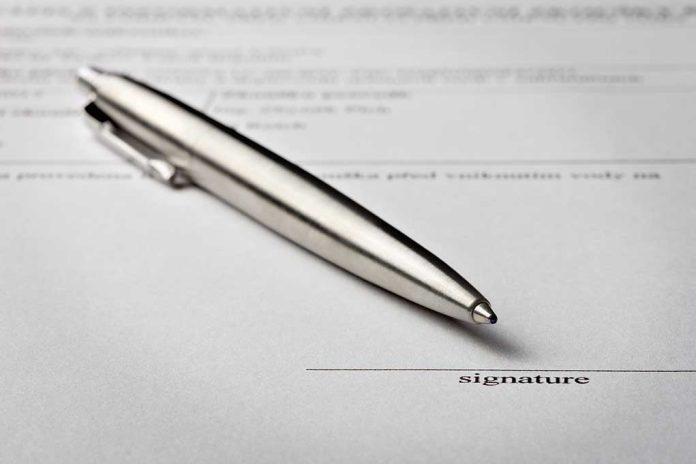 (WatchDogReport.org) – On August 11, South Carolina Senator and presidential candidate Tim Scott signed a pledge required by the Republican National Committee ahead of the first presidential debate. In the pledge, Scott affirmed he would support the GOP's eventual nominee, no matter who that person ends up being. So far, former President Donald Trump remains the main favorite to win the nomination.
The South Carolina senator is the latest GOP candidate to sign the pledge, which is the main criterion that the RNC demands from candidates to participate in the presidential primary debates. The first of these will take place on August 23 in Milwaukee, with many media outlets suggesting Trump won't be part of the event. The former commander-in-chief has stated on different occasions he won't attend the debates.
Other Republican candidates who have already signed the pledge include Florida Governor Ron DeSantis, former South Carolina Governor Nikki Haley, and conservative entrepreneur Vivek Ramaswamy. Candidates also needed to meet other criteria to be part of the debates, including polling and donor thresholds.
During an August 9 interview, Trump said he wouldn't sign the pledge, arguing there are some presidential candidates he won't back if they win the nomination. He said it wasn't appropriate to take this step if there was someone he thought wouldn't be a good nominee. When asked whom he wouldn't support, Trump only responded he wouldn't have "certain people" as the person "I would endorse."
While former Vice President Mike Pence hasn't signed the pledge, he recently said during an interview at Fox News he will do it. He said he feels confident that GOP primary voters know that conservatives need a new leadership not only in the White House but also in the party itself.
In a statement, Scott said he's looking forward to sharing his optimistic message on the Republican debate stage. He also noted that GOP voters are ready for a new conservative leadership "with a backbone." He added that Republicans want an administration that protects Americans, stands up to the Chinese regime, and will "Crush the cartels."
Copyright 2023, WatchDogReport.org