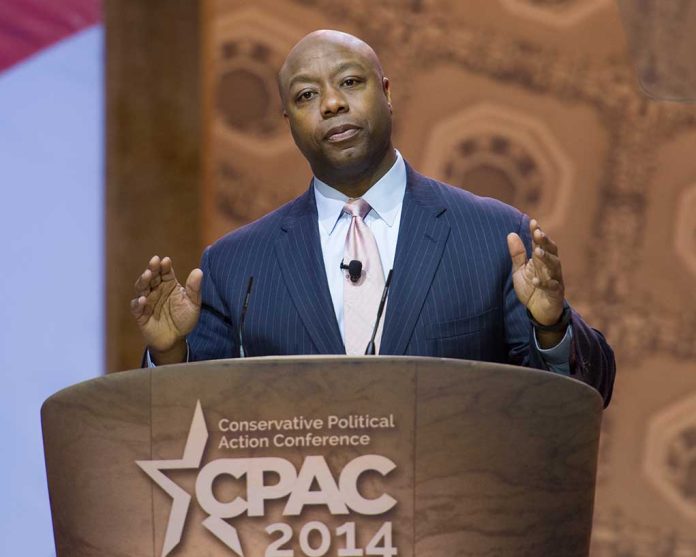 (WatchDogReport.org) – According to a Fox News Monday report, Republican Senator Tim Scott said in an exclusive interview with the network he feels he can win in 2004. He explained the reason behind his optimism is that Republican voters agree with what he's preaching and want new leadership.
When asked how Republicans are reacting to his message, Scott said that Iowa and New Hampshire voters are responding better than expected. He explained that Americans are "thrilled" to have a conversation about how to make the United States a better country. He also said that he and GOP voters want to reach "something positive" and that it's anchored in conservative values.
During the interview, Scott was also asked how he could rise in the polls and compete against former President Donald Trump and Florida Governor Ron DeSantis. The South Carolina Senator said that the polls will start to change now that he announced his presidential bid. He explained he represents an enthusiasm that will spread nationwide, eventually increasing his popularity.
Scott also told Fox News he'll start doing "the things candidates do," including going back to South Carolina, New Hampshire, Iowa, and other states. Finally, the Senator explained he'll remain on the campaign trail and "spend the time," to spread a message that resonates among all Americans.
While Scott is a rising star in the Republican Party, many believe it would be difficult for him to win the nomination. After all, Trump holds massive popularity, with many polls saying he currently has a 7-point lead over President Joe Biden. Also, DeSantis is the second favorite to win the nomination and currently has a significant distance from the rest of the candidates.
Republican financier Hal Lambert recently revealed he will support the Florida Governor, which could increase his chances of winning the nomination. His remarks were a major surprise as many thought he would support Trump again.
Copyright 2023, WatchDogReport.org