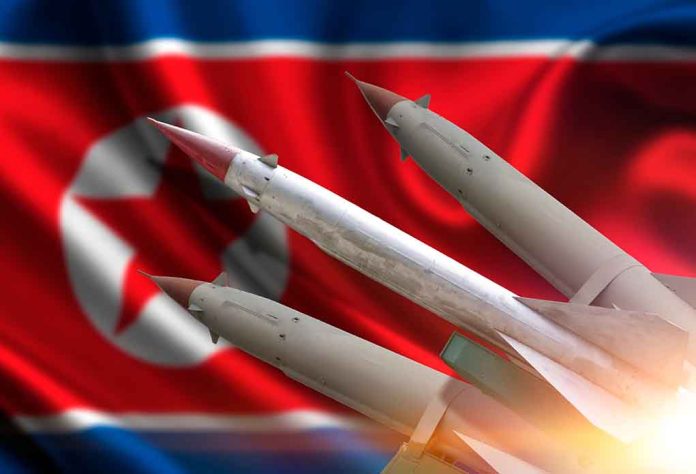 North Korean Launch Sends Missile Flying Over Japan
(WatchDogReport.org) – Kim Jong-un, the Supreme Leader of the Democratic People's Republic of Korea (DPRK), has been called many things, and rarely among them is "sane." This is why government officials in Japan issued an alert that included air raid sirens and verbal warnings broadcast on the streets when Kim's Armed Forces sent a ballistic missile arcing over the country. Rightly so because one can never be 100% sure a missile is, in fact, headed over anything.
📣 "North Korea has fired a missile. Please take shelter inside a building or underground."

This is the warning aired to some residents on Japan's streets as North Korea launched a ballistic missile over the country ⤵️ pic.twitter.com/JckLjd6VQr

— Al Jazeera English (@AJEnglish) October 4, 2022
Kim's military has now launched five ballistic missiles in the past 10 days in protest of military exercises conducted by the United States, South Korea, and Japan, and Vice President Kamala Harris' recent visit to the demilitarized zone (DMZ) on the Korean Peninsula. However, this is the first one to pass over land since 2017 and not just splash into the sea, which is clearly an escalation in his tactics.
President Joe Biden and Japanese Prime Minister Fumio Kishida spoke by telephone "to reinforce [their] ironclad commitment to Japan's defense," in light of the DPRK's violation of resolutions put in place by the United Nations (UN). That body issued a statement attributed to Secretary-General António Guterres echoing its concerns, adding Kim had acted with complete disregard for any aircraft or ships that may have been in the area.
Copyright 2022, WatchDogReport.org