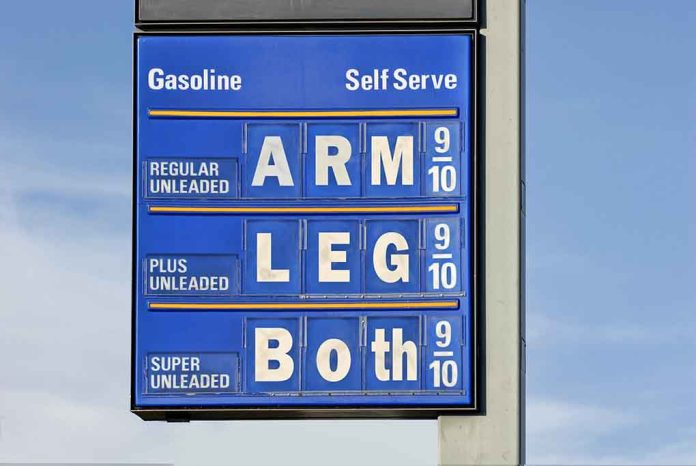 Gas Prices Set to Break Previous Thanksgiving Record
(WatchDogReport.org) – Gas prices have been a burden on Americans' wallets for quite some time now. While the cost per gallon has slowly been trickling down over the last month, they will still be relatively high come Thanksgiving. This could be bad news for those traveling for the holiday with anticipated price hikes, yet according to Gas Buddy, 20% more Americans will be on the roads than last year.
Gas Buddy projects prices for fuel will stand at an average of $3.68 per gallon. This figure is approximately $0.30 higher than 2021, and it beats out the last record set for the Thanksgiving holiday, which was $3.44 in 2012 — ironically when President Joe Biden was VP.
BREAKING: Highest Thanksgiving Gas Prices Ever, Nearly 20% More Americans Plan to Hit the Road #gasbuddy #gaspriceshttps://t.co/D2mqEWcbhA pic.twitter.com/lsHSJJ9XQW

— Patrick De Haan ⛽️📊 (@GasBuddyGuy) November 15, 2022
So, what's causing the uptick in prices that we've seen through 2022?
First, there's the increased demand following the pandemic, which is still affecting prices at the pump. Add to that, when travel increases, demand increases, and therefore, so does the cost. Other factors influencing gas prices include the Ukrainian war and constraints on the fuel-refining industry.
While costs at the pump will be at the highest in 10 years, there's a bit of good news. Patrick De Haan, Gas Buddy's head of petroleum analysis, said we could see averages at their lowest levels since earlier this year by the end of the month.
I anticipate that in the next 10 days, the national average price of gasoline will fall to its lowest level since March. The number of states with sub-$3 average #gasprices will rise to 5 by the end of the month.

— Patrick De Haan ⛽️📊 (@GasBuddyGuy) November 14, 2022
Are you traveling this Thanksgiving?
Copyright 2022, WatchDogReport.org