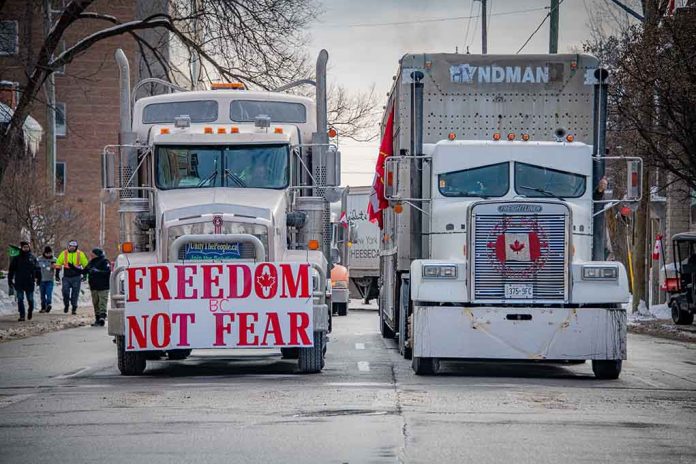 (WatchDogReport.org) – On February 4, a number of protesters joined together in support of Canadian truckers in Ottawa, Canada, in an attempt to show solidarity in their quest to stop COVID-19 lockdowns and vaccination mandates. Shockingly, reported anarchist Dave Zegarac allegedly plowed into the peaceful protesters with his vehicle, sending one person to the emergency room for their injuries.
According to Rebel News, further investigation into the man's background revealed he might have ties to ANTIFA. Andy Ngo, considered an expert on the subject, has reported that Zegarac had extensive ties to the organization, citing his membership in an ANTIFA-themed band among other damning evidence; his reporting also uncovered accusations of rape and sexual abuse in his past.
Breaking: The suspect who allegedly rammed #FreedomConvoy protesters & tried escaping in Winnipeg has been identified as an #Antifa member. I investigated David Zegarac. He's a leader in the antifa punk scene & was accused of grooming & raping a young girl.https://t.co/gcPPvlkCVy

— Andy Ngô 🏳️‍🌈 (@MrAndyNgo) February 7, 2022
Police took Zegarac into custody shortly after he fled from the terrifying attack. They subsequently charged him with assault with a weapon, causing bodily harm, and hit and run.
Authorities in Winnipeg claim they don't have a motive for the attack because the political activist did not talk to the officers upon arrest. However, Zegarac was the frontman for the punk band, The Brat Attack, and was clear about his anarchist political views in his music. Given the nature of the event and the band's ties — along with Zegarac's own personal history — we can draw our own conclusions for now.
What do you think about the attack? Was this terrorism?
Copyright 2022, WatchDogReport.org