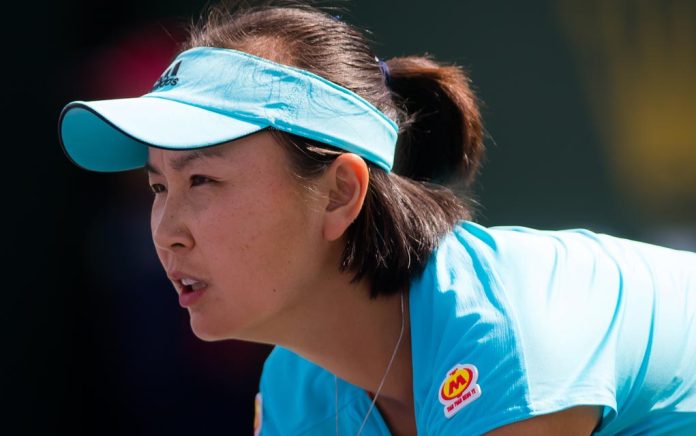 (WatchDogReport.org) – The Chinese government doesn't exactly welcome criticism. There are many, many stories about people disappearing or being jailed after spilling the beans about something the Chinese Communist Party (CCP) didn't want the world to know. A tennis star who recently did just that seemed to suddenly go missing. The Women's Tennis Association (WTA) has now taken steps to punish China.
Allegations Against Former CCP Leader
On November 2, Chinese tennis star Peng Shuai accused former CCP leader Zhang Gaoli of sexually assaulting her. The former Wimbledon doubles and French Open champion claimed the communist forced himself on her three years ago. She put the post up on the Chinese social media site Weibo; it has since been deleted.
After her allegations went viral, Peng suddenly disappeared. The WTA demanded to know where she was. White House Press Secretary Jen Psaki said President Joe Biden was very concerned about the tennis star, too.
Both male and female tennis stars have been sharing the hashtag #WhereIsPengShuai or expressed their concerns about her whereabouts.
Chinese state media tried to suppress the outrage by sharing videos of Peng at a Beijing restaurant on November 27. They also said she had a video call with the International Olympic Committee (OIC) the next day.
Latest instalment in the Peng Shuai saga is 2 creepy videos being heavily publicised by Chinese state media, incl. Global Times editor Hu Xijin. Peng can't be heard talking, & they've clearly been made in response to the viral #WhereIsPengShuai campaign. pic.twitter.com/sV8EQxt7nD https://t.co/cwq3z4YpEz

— Jack Hazlewood (@JackHHazlewood) November 20, 2021
For two weeks, Shuai has been hidden from the view of the public and silenced, just like so many others. The Chinese government's reaction caused the WTA to take action.
WTA Makes Shocking Move
On December 1, the WTA announced it was suspending all tournaments in China. In a statement distributed to the media, WTA Chairman and CEO Steve Simon said the Chinese government has not responded to questions about Peng's whereabouts in a satisfactory manner. He said that although his organization knows where the tennis player is, he has "serious doubts that she is free, safe, and not subject to censorship, coercion and intimidation."
Yahoo News reports the decision will cost the WTA and its players a lot of money. In fact, it could cost hundreds of millions of dollars.
China remained defiant in the face of the news. Chinese Foreign Ministry spokesperson Wang Wenbin spoke out about the uncertainty surrounding Peng's whereabouts and WTA's decision, saying the country "firmly" opposes "acts that politicise [sic] sports."
The WTA is calling on the Chinese government to investigate the allegations made by the tennis star. So far, the communist government has not responded to calls for a probe.
Copyright 2021, WatchDogReport.org