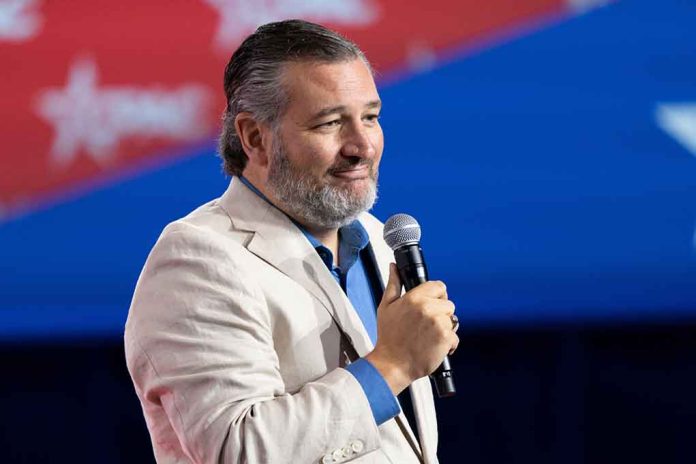 Ted Cruz Is Allegedly Voting With Democrats on New Bill
(WatchDogReport.org) – "It is a riddle, wrapped in a mystery, inside an enigma," is how Great Britain's Prime Minister Winston Churchill described the Soviet Union at the beginning of World War II. That may be an apt way to describe the politics of Senator Ted Cruz (R-TX) now that he has joined the Democrats on the Senate Judiciary Committee to move a bill along to the chamber floor for a full vote.
S. 673
The Journalism Competition and Preservation Act was originally introduced by Senator Amy Klobuchar (D-MN) on March 10, 2021, and it has been stalled in committee since then. As seems to be the case with many legislative bills, politicians seem intent on using 100 words where a normal person could do it in 10.
The measure purports to be a weapon news providers can use to fight against Big Tech platforms like Facebook, Twitter, and Google regarding the type of censorship seen in the run-up to the 2020 presidential election. That, at least, is what the lawmakers who advanced the bill would have one believe.
The act claims its aim is to allow "publishers of online content to collectively negotiate with dominant online platform." According to a press release from Senator John Kennedy (R-LA), who is a co-sponsor of the bill, it "removes legal obstacles so that small and mid-sized news organizations can negotiate jointly for compensation" from the social media platforms.
On September 8, Cruz managed to get an amendment included, which said the antitrust exemption this bill creates could only be applied to compensation and not storyline content, at which point Klobuchar withdrew the bill. But that was not the end of the story. On Wednesday, September 21, Breitbart News published an exclusive article before the vote took place on Thursday and followed up with several more in the aftermath.
Conservatives Not Happy
They quoted unnamed senate staffers of several members on the committee confirming the Texan "caved" and reworked his amendment so independent journalists can now be stomped upon by the major players in the industry. In a follow-up article, they noted Republican Senators Tom Cotton (R-AR), Mike Lee (R-UT), Josh Hawley (R-MO), and Marsha Blackburn (R-TN) were firmly opposed.
.@SenMikeLee is right.

By giving a special antitrust exemption to the media, this bill creates a cartel that would be dependent on Big Tech and likely to censor conservatives. https://t.co/ppljKovZ12

— Tom Cotton (@TomCottonAR) September 22, 2022
Cruz was a fierce critic of former President Donald Trump during the 2016 Republican primary season but seemed supportive of his measures, including the border wall between the United States and Mexico. Now, he is backing a measure that will allow Big Tech to continue covering up their censorship using labels like "misinformation," "extremism," and "hate speech."
In other words, they will be able to continue their war on conservative voices in the same way they did in 2020, helping President Joe Biden take the Oval Office. Maybe Cruz, who has been unavailable for comment, could explain himself in a TED Talk?
Copyright 2022, WatchDogReport.org