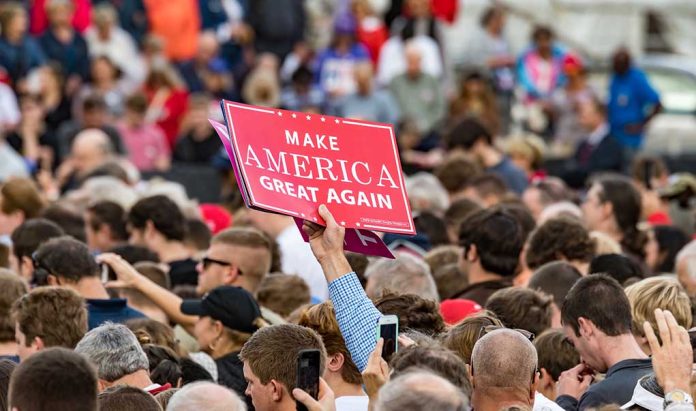 (WatchDogReport.org) – The Left went to great lengths to block anything that hinted at being in favor of former President Donald Trump or conservative values, as the world has seen in the release of the Twitter Files by Elon Musk. A teacher in the Evergreen School District in Vancouver, Washington, felt he was unfairly targeted by a principal for bringing his Make America Great Again (MAGA) hat to training classes for teachers for the 2019-2020 school year. He recently won a victory in court over the matter.
A teacher who wore a "Make America Great Again" hat to school was engaging in constitutionally-protected #FreeSpeech, a US appeals court ruled.

Eric Dodge wore the hat to 2 days of teacher trainings in 2019. https://t.co/8ohm1xLiGa

— The Epoch Times (@EpochTimes) January 3, 2023
The teacher, Eric Dodge, was a long-time employee of the district and was slated to start a new position as a middle school science instructor after returning from medical leave due to a stroke. When he showed up to attend the workshop on racial bias and cultural sensitivity, he removed the iconic red baseball cap before entering the building and simply placed it either on the table in front of him or on top of his other belongings.
The principal of his new school, Caroline Garrett, approached Dodge after the first session because, according to court records, the professor from Washington State University who was teaching the class had informed her they felt "intimidated and traumatized" by the mere presence of the hat. At this point, Garrett told him to "use better judgment," but the problem escalated after he brought the headwear with him the second day.
Having received a text from one of the offended teachers who attended a morning session with Dodge, Garrett again approached him that afternoon and, as Dodge alleges, called him a "homophobe and a racist and a bigot and hateful." She went on and said that if she saw him with his hat again, he would need to have his "union rep" with him for the discussion, which he took as a threat to his continued employment.
The Court of Appeals for the Ninth Circuit's three-judge panel held that Dodge was "engaged in speech protected by the First Amendment" and noted that since he was not wearing it in front of the students, it could not be construed as anything but a private conviction. The case was sent back to the district court, saying he could proceed in his lawsuit against the principal, but not against an administrator and the school district whom he had also sued.
Copyright 2023, WatchDogReport.org