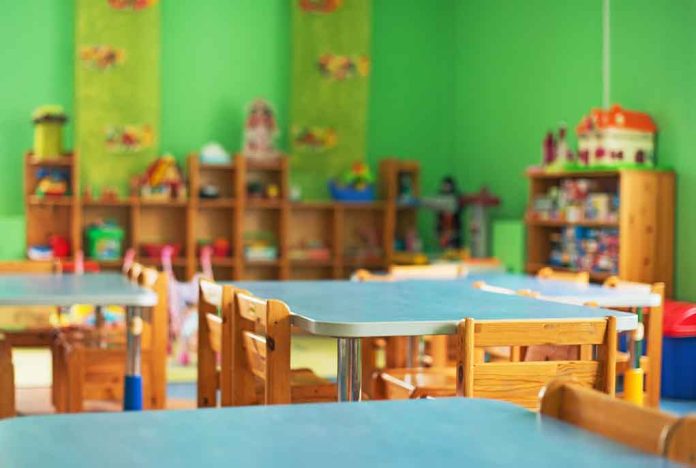 Teacher Caught RED HANDED – State Takes Action!
(WatchDogReport.org) – A preschool teacher in Wake County, North Carolina, is in hot water after using a set of LGBTQ flashcards to teach 3- and 4-year-olds about colors. The teacher's actions became a public controversy after a student's parent spoke up.
The parent contacted their state Rep. Erin Pare (R), who brought the issue directly to the county school board. The board, after an internal investigation, found that the teacher acted alone using peripherals not approved for students. The school's principal took possession of the cards.
This morning I had the opportunity to be a guest on @FoxNews with @steveforschools to discuss the use of a flash card of a pregnant man to teach colors in a @WCPSS preschool class. Please listen via the link below.#ncpol #ncgahttps://t.co/m8fR4yPm4s

— Erin Paré (@ErinforNC) May 31, 2022
The flashcards are from a now-defunct company that pushed social awareness after the murder of George Floyd. In addition to the cards used in North Carolina, which depicted a pregnant male, the company also put out a slew of gender-neutral nursery rhymes, cards featuring non-binary and transgender animals, and a "Blackness Collection" set.
Representative Pare said the teacher was out of line for using materials not approved by the school board. The board agreed with that assessment, adding that the use of the cards didn't complement, extend, or enrich the curriculum and should not have been used.
With the amount of questionable material circulating these days, it seems teachers should probably take extra care with the materials they present to students. With so much discouraging curriculum out there, shouldn't parents have more say in what kids see and learn? Tell us what you think.
Copyright 2022, WatchDogReport.org