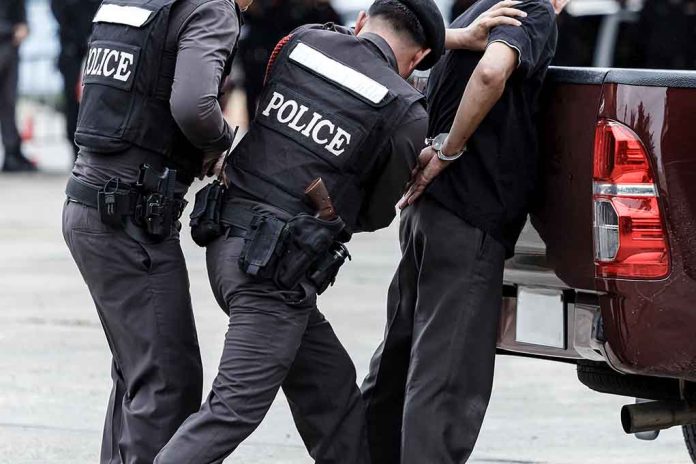 U.S. Capitol EMERGENCY – Officers Swarm The Scene!
(WatchDogReport.org) – When people walk along the streets in Washington, DC, or anywhere really, carrying a backpack, it will generally have things like books for class or maybe even a laptop computer — not a two-liter soda bottle full of gasoline. That's what two United States Capitol Police (USCP) officers ran into when they responded to a call just a couple of blocks away from the Capitol building.
USCP Officers Arrest Man with Molotov Cocktails near Union Station

NEWS RELEASE: https://t.co/UNLnbcXEHH https://t.co/6bDeJFiUrU

— U.S. Capitol Police (@CapitolPolice) July 7, 2022
When two officers approached the suspect, later identified as 26-year-old Bernard McCutcheon, who was sitting on some steps with his back to the street, he stood up with what they describe as "a glass marijuana type pipe [and] a brown in color Bic lighter." He began to walk away while trying to light a cloth stuffed into the top of the bottle, and when the officers caught up with him, a fight ensued.
McCutcheon bit both officers in the struggle, but he was eventually handcuffed and arrested. He has made his first preliminary appearance in court after being charged with possession of a Molotov cocktail.
This is not McCutcheon's first run-in with the police; records appear to show that he was sentenced to 13 months probation on May 20, 2022, after pleading guilty to one count of "Attempted Assault With A Dangerous Weapon." According to a statement released by the USCP, there's no indication the man was targeting the US Capitol or Members of Congress — but the fact that he was walking around DC with the materials is just downright worrisome.
Copyright 2022, WatchDogReport.org