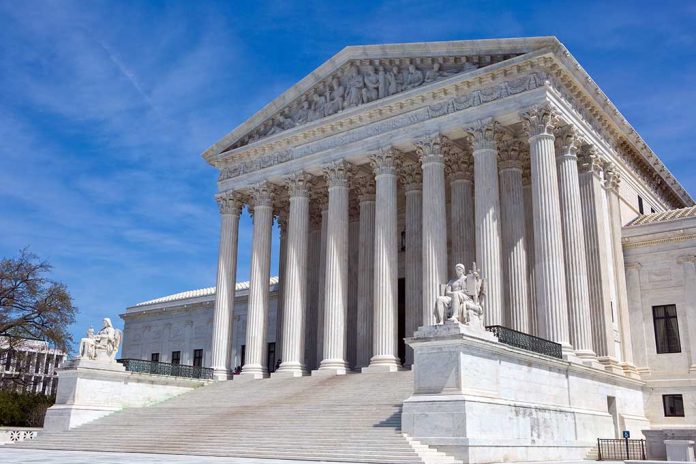 (WatchDogReport.org) – In each of its sessions, the US Supreme Court decides which cases it will add to the docket for consideration. Two cases that made their way to the high court are Arizona v. Mayorkas, which deals with the Title 42 border policy, and Moore v. Harper — a gerrymandering case out of North Carolina. A recent report from The New York Times stated recent moves from SCOTUS may indicate the justices will not rule on either case.
On February 16, the New York Post reported the Supreme Court removed the immigration case from its docket entirely — without explanation — but didn't dismiss the case. The outlet indicated Title 42 might end on its own when the Biden Administration allows the public health emergency status of the US to expire on May 11. If that happens, there will be no reason for the court to address the border issue. As for the North Carolina case, the state's supreme court is re-looking into the matter. That decision could determine whether or not SCOTUS intervenes.
Supreme Court Hints That It May Duck Two Big Cases
Recent orders suggest that the justices are thinking of dismissing cases involving the "independent state legislature" theory and Title 42, an immigration measure imposed during the pandemic.https://t.co/al7Q4dz8Fu

— FairDistrictsOhio (@OhFairDistricts) March 7, 2023
The North Carolina Supreme Court is scheduled to hear arguments on the gerrymandering case on March 14. The Times stated that the US SCOTUS took notice of the move, asking both the plaintiff and defendant to file briefs on whether the high court has jurisdiction in the case. The request could put Moore v. Harper on standby for at least a couple of weeks — if not permanently.
Regarding the Title 42 case, the NYT reported that SCOTUS seemed to agree with terminating the immigration measure. Unless the court hears compelling arguments to keep Title 42 in place, it will likely dismiss the case and lift the stay currently in place. In April 2022, Customs and Border Protection Commissioner Chris Magnus stated that terminating the policy would probably cause an "increase in encounters" at the southern border.
Copyright 2023, WatchDogReport.org