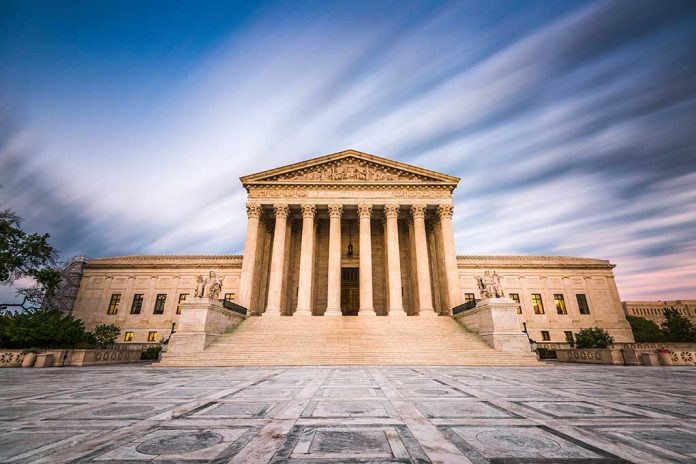 Supreme Court HEADQUARTERS Problem – Building Surrounded!
(WatchDogReport.org) – The Supreme Court of the United States (SCOTUS) suffered a breach of protocol unlike any other in its history. It appears somebody leaked a draft copy of the court's opinion in the case Dobbs v. Jackson Women's Health Organization. The case centers around one of the biggest issues dividing Conservatives from Liberals: abortion. Knowing how high emotions run around this topic, the people charged with the security of the justices acted quickly and put up barricades across the front steps of the Supreme Court building.
Right now: Barricades are up around the Supreme Court building, just minutes after reports from Politico were leaked indicating SCOTUS has voted to overturn Roe v. Wade. pic.twitter.com/LxR9rbs6TF

— Cami Mondeaux (@cami_mondeaux) May 3, 2022
Politico broke the news and published a copy of the draft; in it, Justice Samuel Alito indicates the court may be ready to overturn Roe v. Wade (1973) and Casey v. Planned Parenthood of Southeastern Pa.(1996). Saying both those cases need to be overruled, he wrote, "the Constitution makes no reference to abortion, and no such right is implicitly protected by any constitutional provision, including… the Due Process Clause of the Fourteenth [sic] Amendment."
Both pro-life and pro-choice groups have gathered in front of the SCOTUS courthouse and several other locations around the country, and fortunately, as of the afternoon of May 3, nothing but angry words are flying between the two groups. In the meantime, Chief Justice John Roberts has ordered the Marshal of the Court to find the person or persons responsible for the leak.
JUST IN: The Supreme Court confirms the authenticity of the draft opinion revealed last night by Politico. The chief justice has ordered an investigation into the leak. pic.twitter.com/XZweHdyhCG

— SCOTUSblog (@SCOTUSblog) May 3, 2022
However, Senator Ted Cruz (R-TX) believes it's the FBI that should be investigating with an eye toward prosecution and jail time for the offender. His colleague, Senator Marsha Blackburn (R-TN) — who sits on the Judiciary Committee — called it "an attack on the court." NBC News reports that some Conservatives in Washington believe that it's an intentional attempt to intimidate the justices.
Copyright 2022, WatchDogReport.org