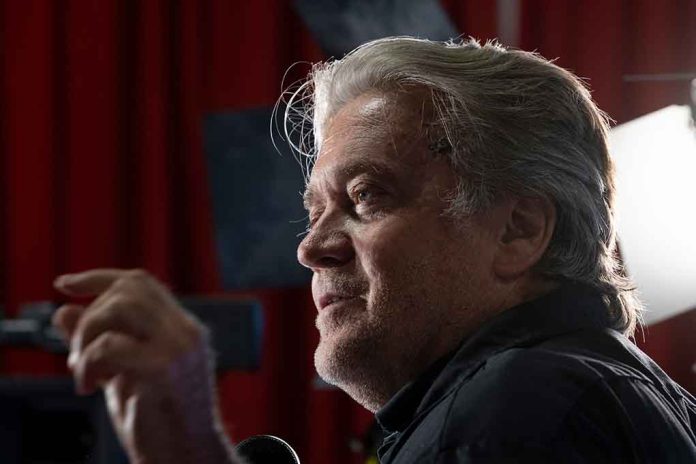 Steve Bannon TARGETED – Attempted Killing?
(WatchDogReport.org) – Swatting is a harassment technique where somebody places a hoax call to a local 911 center claiming to have heard gunfire or the belief that there's a hostage situation underway. It's done to bring a large and armed police response to the target's address. Beyond wasting precious police resources, swatting has had deadly results in the past. Recently, it happened to another high-profile conservative.
Another Swatting
Steve Bannon is a conservative media personality who was the White House's chief strategist during the early part of former President Donald Trump's time in office. On the evening of Thursday, September 1, an anonymous individual called in a report of shots fired, which provoked a response by police, fire, and EMS departments to Bannon's home in Washington, DC. Although no suspect or motive has been given at this time, it doesn't take a great leap to imagine that his political positions and connection to the former president were factors.
This is not the first time police officers have "visited" the conservative's property near both the Supreme Court (SCOTUS) and United States Capitol buildings. On the morning of July 8, a call warned of an active shooter at his address, who had threatened suicide if police approached; it sent the cops racing there.
Another MAGA Target
Representative Marjorie Taylor Greene (R-GA) recently found herself the victim of swatting calls to her Rome, Georgia, residence on two consecutive nights. In her case, it could have worked out in a very tragic way because of how she normally answers her door to unexpected visitors in the dead of night.
While appearing on the Charlie Kirk Show on August 24, Greene related her experience of being awoken from a sound sleep by knocking on her door and her doorbell ringing, on the first of the two nights. As might be the case with many gun owners, she said she would typically go to the door with her weapon.
However, Greene said she had a "weird gut instinct" to leave it behind on this occasion. This was probably for the best because when she got to her front door, she found the police had their guns out and ready to use.
Real-Life Consequences
President Joe Biden recently referred to the policies of his predecessor and his followers as "semi-fascism." Just a few days later, a GOP office in Florida was vandalized with the fascism slur. Biden then followed up with a scene more reminiscent of 1930s Berlin than America, at least before 2022. On September 1, he used his position as President of the United States to essentially commandeer prime-time television to spread his histrionics about the dangers that MAGA Republicans represent. The divisive language coming from the White House is the very opposite of the platform that Biden ran on.
Copyright 2022, WatchDogReport.org