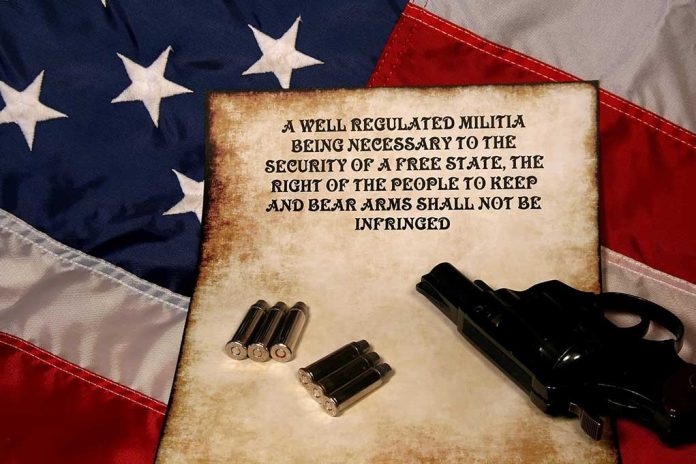 (WatchDogReport.org) – In June 2022, Congress passed gun reform legislation that President Joe Biden said he hoped would "save a lot of lives." Despite the effort, VOA News reported at the end of the year that gun violence across the United States had increased to a level not seen in almost 30 years. Now, a senator from California is addressing the issue from a different angle, at least for The Golden State.
On February 16, state Senator Dave Min (D-CA) announced he was introducing Senate Bill 637, which would bar California from doing business with any banks whose customers manufacture firearms. The senator reasoned that the gun "epidemic" will continue as long as financial institutions supply the industry with money. Min said the measure will "force Wall Street" to choose between "blood money" from the gun industry and "doing business" with California.
In short, the lawmaker aims to send a message: California will no longer "finance gun violence."
Michigan State.

Half Moon Bay.

Monterey Park.

No place in America is safe from the epidemic of gun violence. Today, I introduced #SB637 to force Wall Street to make a choice between blood money offered by the gun industry and doing business with the State of California. 1/ pic.twitter.com/Gx3VClDXJz

— Senator Dave Min (@SenDaveMin) February 16, 2023
If passed, the law would impact every corner of California's finances, including selling municipal bonds, capital projects, and the state's debt portfolio. Min is asking for banks to align with California's initiative to end gun violence.
Larry Keane from the National Shooting Sports Foundation (NSSF) stated Min's proposal would prevent Americans from exercising their Second Amendment rights by potentially driving the "firearm industry out of existence." The editorial board of the Orange County Register accused the California state senator of trying to score political points with the legislation proposal, saying the legislature should reject the measure.
This isn't the first time Min has gone after guns. In February 2022, he introduced SB 915, which prohibited the sale of firearms on state-owned property. California Governor Gavin Newsom (D) signed the bill into law in July of that same year. The new legislation essentially banned gun shows from operating on county fairgrounds.
Copyright 2023, WatchDogReport.org